City council opts for pair of sales tax questions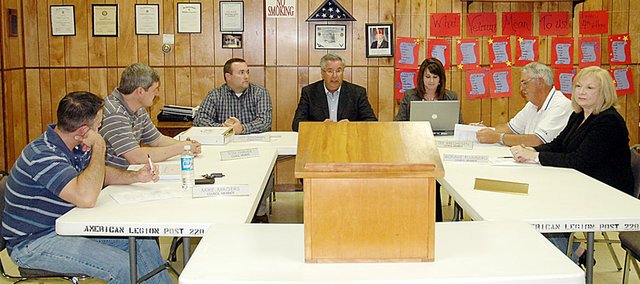 After lengthy discussion, the Baldwin City Council decided to put two sales tax questions on a Nov. 3 ballot for voters to decide on. But it wasn't easy.
The council debated the merits of two questions, as opposed to one, for more than an hour at Monday's special meeting called to decide the issue. In the end, a 3-2 vote determined that voters will be asked to extend the present half-cent sales tax on one question and adding an additional quarter cent on a second question.
"I think you put it out there and let the people vote," said Mayor Ken Wagner.
Voting for the two questions were Council Members Bonnie Plumberg, Tom Farmer and Robin Bayer. Voting against it were Council Members Ted Brecheisen, Jr., and Mike Magers. Both the dissenting voters were for the half-cent sales tax. Brecheisen was against the additional quarter cent and Magers only wanted one question and wasn't sure about the additional tax.
"My feeling is to go for the half cent that we had and I'd be more than willing to support that," said Brecheisen. "When we go to adding more to it, they're going to say that's like the feds and taking more money. Everybody I've talked to is for that (renewing the half cent sales tax)."
The present tax was started in 2000 to pay for the new swimming pool. It raised between $170,000 and $180,000 per year and the pool was paid off five years early. However, that tax was for the pool only and will sunset when the pool is paid off.
Voters will get a ballot with two questions. The first will basically be for a half-cent sales tax to be used for capital improvements. The second question will be for a quarter-cent sales tax that will be used for quality of life issues.
Wagner noted that Baldwin City's current sales tax rate of 7.3 cents is lower than that of most area towns. Gardner's is at 8.25 cents, Ottawa's is at 7.9, Lawrence's 7.85 and Eudora's 7.3. If the present half-cent tax ends, Baldwin City's rate would dip to 6.8 cents.
"We would have the lowest sales-tax rate from any city in the area," he said, adding that the tax is the only chance to capture revenue from visitors. "I think the majority of the $170,000 comes from people coming into town. This is our only shot of getting revenue from people who come to town."
Plumberg, who heads the community development committee that's pushing the tax and also has two downtown businesses, agreed.
"The businesses I run see a lot of out-of-town people," said Plumberg.
Wagner also believes that the voters will ultimately make the right choice, especially if there's an effort made to get information out regarding the tax, including town hall meetings where people can say what they want the money used for.
"People will make an informed decision to do what's best for the community," said Wagner. "If this is done right, I think this can provide some property tax relief."
He noted that the city is facing several big projects, such as north Sixth Street, in the future and if the sales tax isn't in place to pay for them, bonds will have to be used to pay for the work.
Brecheisen raised concern about a possible electric rate increase, currently proposed at 11.5 percent, and that sales tax is reflected on electrical rates. However, the sales tax rate on electricity is only 2 percent, according to city staff. The electrical rate hike is to be considered next month.