BHS

volleyball hungry for wins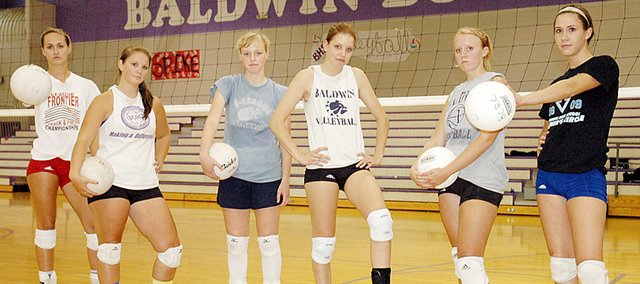 Nine wins in the past two seasons. Fifty-nine losses during that stretch.
Baldwin High School's volleyball program last had a winning season in 2003, when it finished second at the Class 4A state tournament.
Yet, Kelly Brown and her BHS volleyball players are confident this year will be different.
"They want it," said the fourth-year coach. "They're ready to win. The seniors were freshmen when I got here and they have lived through this program. They're fed up and sick of the heartaches and pains that they've gone through. They are ready to do something about it."
Brown and her team are fired up about their season that begins Tuesday in Eudora for several reasons. First, the Bulldogs return six players who started sometime during the 2008 campaign.
Returning varsity players are seniors Taylor Brown, Katie Brecheisen and Mallory Sansom. The junior returners are Ramie Burkhart, Kyla Good and Lyndsey Lober. The Bulldogs also have two seniors and a handful of younger players who will contribute at the varsity level.
"This year we have five seniors and so we have more leadership than we've had before," Brecheisen said. "Before the season, we started making posters, hanging out and talking to teammates. The whole attitude of the volleyball team is a lot more positive than it's ever been."
The second reason the Bulldogs believe this year will be an improvement from the previous seasons is their attitude has improved. Coach Brown has been impressed with her players' enthusiasm during the first two weeks of practice.
"They are working very hard and they have great attitudes," coach Brown said. "They've been working their butts off with conditioning and volleyball."
Their third reason might be the most obvious. Experienced players can return each year and enjoy their sport, but they must improve to be successful. The Bulldogs believed they've put in the time during the offseason and summer to improve as players and as a team.
"They are working very hard and they have great attitudes," T. Brown said. "They've been working their butts off with conditioning and volleyball."
During the summer, the Bulldogs competed in two different summer leagues. One only lasted a few nights, but the other had them playing twice a week in Wellsville against area and Frontier League schools.
"A lot of improving has to do with offseason volleyball and every single one of these girls played in the offseason this year, which didn't happen the year before," coach Brown said. "They worked a lot this summer and played in a lot of summer leagues. Their chemistry has bumped up a couple notches and we have great leadership from our seniors."
Experience, attitude and hard work have combined to raise the expectation level of the 2009 Bulldogs and their coach. That aura of confidence can be seen on the court during practice.
The BHS players are even talking about having a successful season off the court. They are hanging out as a team and trying to instill a winning attitude before the season officially gets underway Tuesday.
"We're ready to win this year," Burkhart said. "Everybody is ready to be very competitive and have a winning record."
Their coach is excited to hear her players have high expectations.
"That's all they're talking about," coach Brown said. "They want to have a strong season and go to state. They want those wins and I can tell they are ready to play as the underdog."
The Bulldogs' season begins Tuesday at Eudora. Then they host the Baldwin Invitational on Sept. 12. When they do take to the court, coach Brown believes height and aggressiveness will be two of their strengths.
"One of our strengths this year is going to be passing," she said. "We have Kaysha Green as our libero. She is starting to talk on the court, which is very important in that position, because they never leave the court. Our weakness might be that we are going to run a 5-1 with Taylor Brown, which could really wear her down. At tournaments, we'll use Kyla Good as a setter. She will have to step up and back up Taylor."
Brecheisen has been impressed how the team is hustling and communicating on the court.
"Random things happen during games and we are now getting to the balls we never got to before," Brecheisen said. "We're more aggressive than we've been before. We're also talking and trusting each other a lot more."
BHS will start playing at 5 p.m. Tuesday. They're ready to see if their play on the court meets their own expectations.
"I'm more than ready," Brecheisen said. "I've been ready for about two months now to start playing volleyball. We're going to have to keep working hard in practice to get better."