Baker football will be tested in first two games of 2009 season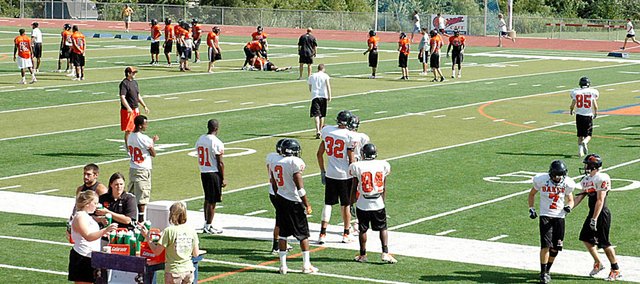 When the Baker University football team kicks off its season Sept. 5, sixth-year head coach Mike Grossner is going to get an answer about his 2009 team.
Grossner's Wildcats surprised the country when they went 8-4 a year ago. They finished the season in the first-round of the NAIA playoffs. It was the first time in 15 years that Baker's been to the playoffs.
"There were a lot of things that we did right to get where we were last year," Grossner said. "If we don't do that, we could be very average. I'm excited to see how our team plays now that we are expected to win these types of games."
However, when their season begins this fall, the Wildcats will be tested early. They open at No. 17 Missouri Valley before hosting No. 8 MidAmerica Nazarene, the defending HAAC champion, the following week.
"The first two games will determine a lot on how we sit and where we have to go the following eight weeks," Grossner said. "Whether we win two or lose two, we are still in the race. I think the first two weeks will give us a barometer for where we are at as a team early in the season. We would love to be 2-0. If we are 0-2, the world hasn't ended. We still have eight weeks to prove ourselves."
Grossner's players are also well aware of the impact of the first two contests of the season.
"We'll find out who we are early," said Mack Brown, Baker senior quarterback. "Missouri Valley probably has that first game circled after last year's game. You know they feel the same way we do about MidAmerica. We have to get up for each game."
A year ago, Baker narrowly defeated Missouri Valley at home. Baker scored a touchdown in the final 30 seconds of the game to win 26-22 over the favored Vikings.
The Wildcats traveled to Olathe to play MidAmerica the following Saturday. Despite chances to win the game, the Wildcats fell in double overtime, 42-41, to the Pioneers.
Now, the two losers of those contests will be looking for revenge when the HAAC season begins Sept. 5.
"We played a perfect game against Missouri Valley last year and barely escaped with a win," Grossner said. "We didn't turn the ball over. We held them out when we had to on defense. We made big plays when we had to on offense. Then we scored with 23 seconds left to win the game. We know how good they are, so it's going to take a great effort for us to go down there and win."
"MidAmerica has our number," he said. "We've played them close, but lost in a double-overtime game and a last-second game the past three years. But motivation-wise, our guys will be ready this year."
Last fall, the Missouri Valley and MidAmerica games were Baker's final two regular season contests. Grossner said he almost prefers this year's schedule.
"It just so happens these two teams are the first two games of the season, instead of the last two," he said. "I like the way it sets up. I prefer this rather than easing into it. We'll play two fantastic football teams and luckily we get to play them early. All of the games mean the same. Every game counts. That's the perspective we have to take."
Although Baker will be tested early this season, expectations surrounding the Wildcats are high. Coming off the 2008 season, the Wildcats' players are understanding the level they must play at each week.
"It's a different feel now, because the whole team has high expectations," Brown said. "In the past, a lot of us had those, but I don't think the entire team believed we were going to do great things. I think the whole team is on board thinking that we can contend for a national title."
Baker is ranked No. 12 in the preseason poll and projected to finish fourth in the Heart of America Athletic Conference.
"Our goal has always been a national championship," Grossner said. "That's our No. 1 goal every year. We've just gotten better as a program. Guys have grown up and played more."