Towns wins $25,000 on lottery ticket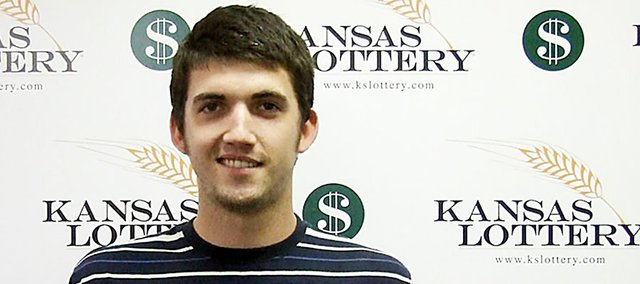 Zachary Towns gambled and won — $25,000, to be exact.
The 22-year-old Baldwin City resident and Baker University student purchased a lucky lottery ticket.
"It was pretty wild," Towns said. "I couldn't believe it. I can't explain it. I honestly think there was something in the air. That's the only reason I went into the Kwik Shop to get it. I never play $5 scratch-off tickets."
Last Thursday afternoon, Towns walked into Kwik Shop to redeem a free lottery ticket. While at the counter, Towns noticed a $5 game he hadn't seen before.
After digging in his pockets and finding his last $3, he decided to take the $2 he had just received from his previous ticket and purchase the $5 Scrabble instant scratch ticket.
"Usually, I don't play the lottery that often," Towns said. "I probably buy a couple of $2 scratch-off tickets every month. I never buy $5 tickets. By chance, I had enough money in my pocket to buy one. I even walked around the store thinking 'how am I going to spend the last three dollars I had' because I was bored. I just decided not to buy anything so I could buy a $5 ticket."
Towns began scratching the lottery ticket and quickly realized he was going to be earning some money. He soon scratched the winning row, but looked it over several times to confirm he had indeed won.
He walked back into the store to confirm the winning ticket. The female employee scanned it and it said, "Claim at Lottery." He snatched the ticket out of her hand, jumped in his car and raced home.
While on his way home, he tried calling his mom Kim more than a dozen times but she never answered, so he called his dad Donnie. His dad remained skeptical of the situation until he was able to review the ticket himself.
"I've been playing lottery tickets for years," said Donnie. "There have been times when I thought I'd won, but I'd read the ticket wrong. I don't want Zachary going through the same thing because it's an awful feeling. When he called, I told him to stay at home until I got there to look over the ticket. After reading the ticket from front to back several times, I knew there was not a mistake that he'd won. I told him to sign the back of his ticket and we'd drive him to Topeka to claim his prize."
Towns currently works as an in-home specialist and takes care of an elderly gentleman. He has no immediate plans to spend his winnings, which will be $17,500 after taxes.
"I already have a job that pays pretty well and I live with my parents, so that helps a bunch," Towns said. "I was going to invest some of it or put it in a CD, just so I don't have access to it. I may spend some of it; maybe treat myself to a new guitar. I'm not going to do anything too risky with the money."