Sales tax still at issue for city council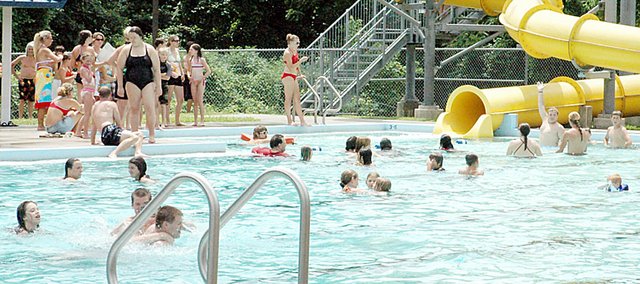 Baldwin City Council members are sure they want to put sales tax questions before voters, but they're not sure how.
At Monday's meeting, the council was presented with two propositions, each asking voters for a half-cent sales tax. The first, to be used to pay for quality of life issues, would just be an extension of the present half-cent sales tax that has paid off the swimming pool early. The other half-cent would be used to pay for capital improvements.
That sparked a lively debate among the five-member council and Mayor Ken Wagner. They are concerned that there's misinformation out there that it would be new taxes. One wouldn't be a new tax, while the other would be.
But Wagner's big message was that these taxes are a way to get something from those who come to Baldwin City and wouldn't just be a burden on residents.
"We have a lot of transient people come through here every day," said Wagner. "This is our opportunity. If we let this half-cent sales tax stop, we will have the lowest rate around. This is a chance to have people who don't live in Baldwin City to help pay for these things.
"That's why I thought we should put two questions for the voters to decide on," he said.
While Council Member Mike Magers favors the sales tax, he's not sure about the two questions.
"We might jeopardize getting one through if we try two," said Magers. "There's a sense of desperation about no new taxes. I think it would be great to find additional revenue without raising property taxes. I am a little fearful of neither one passing."
The present half-cent sales tax was started in 2000 to pay for the new pool. It raised more money than expected — around $170,000 a year — and the pool was paid off five years early. But that tax was specifically for the pool and will end when it's paid off. The one question for a half-cent sales tax would just be a renewal.
"I'm in favor of continuing the half-cent that we have, but not an additional half-cent," said Council Member Ted Brecheisen Jr.
City Administrator Jeff Dingman and Council Member Bonnie Plumberg both spoke about the need to educate voters on the issue. Plumberg, who heads the community development committee, wants to have town hall meetings and come up with a flier containing information. That all needs to happen before the planned Nov. 3 election.
But the first step will be a special city council meeting next week. Dingman was instructed to rework the language on the propositions and essentially move the second one — for capital improvements — to being first and vice versa. Also, the consensus of the council was to ask for a quarter-cent instead of a half-cent on the second proposition.
The special meeting will be at 7 p.m. Monday at the American Legion Hall. That's a half hour sooner than the council usually meets. The sales tax issue will be the only matter of business.