Fitness to rule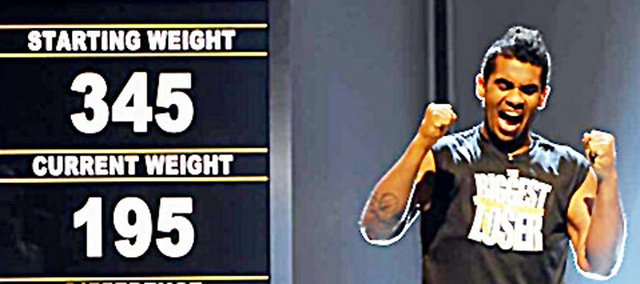 Lez Luckett of Lawrence was a winner in the NBC Show "The Biggest Loser" during its fourth season. He lost 150 pounds and has kept most of it off. He'll be in Baldwin City for Saturday's "Small Town Big Cause 5K Run/Walk."
Q. What is the "Small Town Big Cause 5K Run/Walk?"
A. Co-chaired by Peach Madl and Cheryl McCrary, the Baldwin City "Small Town Big Cause 5K Run/Walk" will be held on Saturday at the Baldwin City Golf Course. The event is open to participants of all ages. The race begins at 8 a.m.
Q. Why is the event being held?
A. "We really wanted to do something that promoted wellness and healthy habits," said Madl. "This 5K run/walk does just that, as well as letting people know about the comprehensive services that Lawrence Memorial Hospital offers in Baldwin City." Proceeds from the event will benefit the LMH Endowment Association.
Q. Lawrence resident Lez Luckett is involved with the event after being on a TV show. How did that happen?
A. At 24 and unhappy with the "unhealthy lifestyle I had accepted since a young age," Luckett submitted an audition tape to the producers of NBC's The Biggest Loser. Being selected as a contestant on the fourth season of The Biggest Loser was the beginning of the journey that would change his world forever and prepare him for a life centered on health and wellness.
Q. Why did Luckett get involved with the Baldwin City 5K run/walk?
A. "Since appearing on the show," said Luckett, "I've stayed committed to a healthy and active lifestyle. So when I was approached to get involved with the 'Small Town Big Cause' events, I jumped at the opportunity to champion the importance of leading a healthy lifestyle."
Q. Since the show, what has happened with Luckett's weight?
A. Since 2007, Luckett has maintained a weight loss deficit of over 135 lbs. "I really hope that people will come out and take part in the run/walk," said Luckett. "All it takes is one step to get on the road to a healthier lifestyle. I am a firm believer that with a purpose, plan and support, anyone can lead a happier and healthier lifestyle. I am looking forward to being in Baldwin City and cheering on all of the runners and walkers."