First
BHS

fall practices forced inside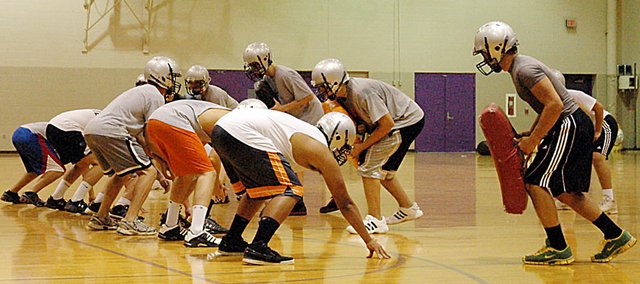 Photo Gallery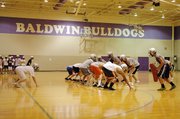 BHS Fall sports begin practice
Baldwin High School's fall sports teams started their 2009 seasons Monday. Lightning forced the morning practices indoors, but the rest of the day was filled with great weather for all five sports.
Baldwin High School's fall sports teams got off to a rough start Monday morning.
Lightning bolts and thunderstorms rolled through the area during the morning. That forced the BHS football and cross country teams to hold their first practices of the 2009 season inside.
The football squad moved their practice to the gymnasium, while the cross country teams ran around BHS.
"The rain came in the morning, so we had to run inside, but it was great to start the season," said Mike Spielman, BHS cross country coach. "They all showed up and learned we are going to do something, whether it's inside or outside."
Despite the indoor practice location, the football team accomplished a lot at their first practice of the season. Coach Mike Berg was pleased with his team's effort.
"We had a great day of practice," Berg said. "For having bad weather, we went inside and got a lot of things done. I was really excited about the intensity the kids were bringing with just helmets on today."
Here's a look at the five BHS fall sports and their first days of practice.
BHS football
Like every fall, the Bulldogs began the season with two-a-day practices. They were up and ready to practice at 6 a.m. Monday. Unfortunately, the weather moved them inside the BHS gym.
In accordance with state regulations, the Bulldogs haven't been able to practice in full pads until today. They were able to wear helmets during the first three days. Despite the indoor practice and the limited gear, Berg believes his team accomplished a lot Monday morning.
"Instead of the center, quarterbacks and running backs worried about a slick ball, we were worried about running our playbook," Berg said. "We've got kids that have worked hard all year. They are ready to show what they're capable of doing. It feels good as a coach to see their hard work carry over to practice."
Although the skies cleared up Monday evening, the Bulldogs moved their practice indoors again. Berg was concerned about his players' safety and the condition of their practice field.
"We didn't want to tear our field up on the first day," he said. "Plus, you always run a chance with kids slipping and tearing up their knees or ankles. We didn't want to mess with that, because the first couple of days are learning days. We are very happy with how much we got done."
BHS will have its first practice with full pads after school today. Berg is sure the players are ready to hit each other after Monday's opening workouts.
"The way they were hitting the bags tonight, I think the answer to that is yes," he said. "I think we will have a lot of pads popping Thursday."
The Bulldogs open their season Sept. 4 with their home opener versus Paola. During the next two weeks, the coaching staff hopes the players keep working hard and take care of their business.
"We just have to keep getting better every single day," Berg said. "That's what we tell the kids. We want everybody to be a full-time player this year and be accountable. We want them to always be at practice, getting their schoolwork done and focusing on what they need to do. That will carry over to the field."
BHS cross country
Just like the football squad, the BHS boys' and girls' cross country teams were forced inside Monday morning. Their 6:30 a.m. practice to begin the season turned into a 15-minute run around the inside of the school.
However, Spielman sent his teams for a run to the Douglas County State Fishing Lake at their 7 p.m. practice Monday.
"It's really nice tonight," Spielman said. "If you look at the temperatures all of this week, we've gotten really lucky. It's not going to be really hot. It's usually around 100 degrees when we start."
The boys' team had 22 runners attend the first day of practice, while the girls' squad had 16. Both numbers are slightly higher than average.
Several of the Bulldogs have been meeting during the summer and training together. Spielman said the summer workouts showed for those who ran, but others still have conditioning to do before the first meet.
"They came in ready for practice," Spielman said. "Most of them have been doing some stuff, so they were kind of pumped. It's nice when you've done that summer training and you can come in and show what you've done. Of course, there are some that are learning the whole system. They will be sore here for the first few days."
The Bulldogs' first meet is at 4 p.m. Sept. 3 in Garnett. They will later host two meets on Sept. 19 and Oct. 3. The Bulldogs will have several difficult workouts before the season begins.
"We'll get a couple of weeks of practice in and by that time, they'll be tired of practicing," Spielman said. "They'll be excited for the first meet, but we have to put in some work during these weeks to set ourselves up for a good season."
BHS soccer
Weather wasn't a problem for the BHS soccer squad Monday. The Bulldogs were dealing with a new practice field for the 2009 season.
Construction on the new practice track facility north of BHS has torn up the soccer field. This forced the Bulldogs to move their practices to the field east of the Baldwin Elementary School Primary Center.
Although it isn't ideal, coach Matt McCune said the field will work for their practices this fall.
"The surface is a little bit better than what we had last year," McCune said. "If they would mow the grass, it would be a little nicer. Obviously, we would like more space, but we will make do with what we have. The kids will jog over and that will be their warm-up.
"A lot of people drive by and see that soccer is going on, plus we don't get dust in our eyes like we did at the last place," he said. "We also don't have to chase balls into the weeds. So it has its pluses and minuses."
On Monday, McCune had 40 participants at practice. That number is slightly less than a year ago, but still around where he wants it each year.
"The first day is kind of what you expect," he said. "We're just trying to get everything together. We have good numbers. They are really a bunch of great kids. That's really the reason I'm out here. I enjoy that so much."
Baldwin's soccer team graduated a handful of seniors a year ago that helped build the program from its beginnings. However, BHS also started three freshmen during the 2008 season.
The team is still young, but these first couple of weeks will be spent determining a varsity team. The Bulldogs open the season Aug. 29 at Tonganoxie.
"I don't know who is going to be on varsity, so we're doing a lot of teamwork type drills," McCune said. "We're also doing a lot of 1-on-1 stuff to find out individual talents. We're doing less conditioning than last year. There is still a lot of inexperience here. I'm throwing some terms out and they have no idea what I'm talking about."
BHS volleyball
While the BHS football and soccer teams are working less on conditioning this week, coach Kelly Brown is not. She had her volleyball players at the school at 7 a.m. Monday for conditioning workouts.
That's how the season began for the Bulldogs. Brown said some of the players need the extra running, while others knew what to expect coming into the season.
"Conditioning went really well, but you could tell there are a few girls that need to get the summer out of them," Brown said. "They worked really hard this morning. The senior class showed great leadership, which we've missed in the last few years. It was great to have that at practice."
"It's going to be a tough week," she said. "They know that I have a pretty strict conditioning routine. They know what it is and some of them have been doing it for a few years now. They came in mentally prepared to do it, so that helps a lot."
There were 39 girls at practice Monday afternoon. They worked on basic fundamentals, while also learning some new drills.
"The first day of practice went really well," Brown said. "We had a high number of kids out. The girls came with great attitudes and they worked hard today.
Despite several disappointing seasons with only a handful of victories, Brown said the girls came into practice ready to work hard. Baldwin begins its season Sept. 1 at the Eudora Quad.
"There was a lot of enthusiasm," Brown said. "The girls were talking and the gym was loud. It's great to have them talking and cheering each other on today. They're full of energy and ready to go."
BHS girls' tennis
Weather didn't hamper the BHS girls' tennis squad's first practice of the season. In fact, coach Justin Hoffman was surprised by the cool temperatures Monday afternoon.
"I thought it went really well," Hoffman said. "I'm surprised we got to come outside, honestly. We had a good first day.
"I think the girls were much happier to be outside than they would have been to get inside," he said. "It looks like we have a good group out this year."
The Bulldogs are down to 18 girls from 28 a year ago. Hoffman said this year's numbers are more manageable. He also said they have no seniors and six freshmen, so they're still young.
"We had 28 last year and that was a real challenge," Hoffman said. "We don't have any seniors this year, so we're still pretty young, as we've been in the past several years."
The Bulldogs start their season Sept. 2 at Bonner Springs. The varsity squad will begin Sept. 3 at Topeka-Hayden. Like the volleyball team, Hoffman wants his squad better conditioned than previous teams.
"I don't know if they were ready, but they worked pretty hard," Hoffman said. "I'm going to make it a lot more physically challenging than I have in the past to help build endurance."