Bulldog Days ends with special guest visit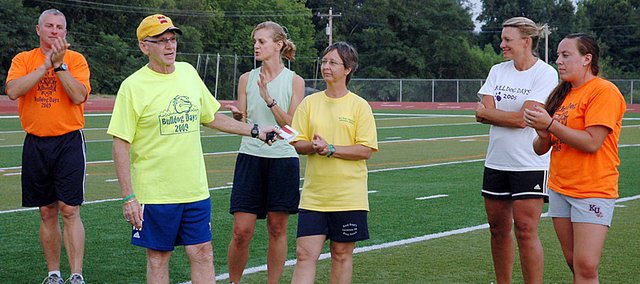 Record crowds and t-shirt recipients were the primary highlights of Baldwin City's summer workout program known as Bulldog Days.
However, participants on the final night were treated to a special guest. Don "Red Dog" Gardner attended the final session Friday evening at Liston Stadium.
Gardner is the organizer of Lawrence's Red Dog Days, which is the program that Bulldog Days is based on. Gardner and his wife, Beverly, joined the Baldwin group for the summer finale.
"That brings some history to it and ties it in with 1984 when the program started," said George McCrary, organizer of Bulldog Days. "It was neat to have them here working out with us. Then he took some time and talked to our crowd and football team. That made it special."
Gardner spoke to the Bulldog Days attendees. He was impressed with the attendance, which wasn't even the largest of the summer.
"I'm in awe right now," Gardner said. "It's kind of like it used to be in Lawrence. We used to have a lot of kids at first and that's important to me. Mike (Everett) had kind of told us how many might be here, but we are both amazed at the turnout."
The Gardners joined the workout Friday evening. Baldwin residents were honored by their presence.
"What a great honor it is to have him here," Tony Brown said. "I think he was really impressed by what we've been able to put together here."
Brown was one of 11 participants to earn the status of "Mighty Dog." Those participants attended at least 50 workouts during the summer. This was the first year for the "Mighty Dog" t-shirts.
"I live across the street, so that helps, honestly," Brown said. "In the mornings, I could hear people over here working out, if I decide to sleep in. Plus, I have a wife who is an early-morning person and a daughter who wanted to come in the evenings, so I'm supporting the women in my household."
Another "Mighty Dog" recipient was Lisa Howard. She attended 66 workouts, many of which were with her husband, Gary, and Baldwin High School daughters, Allison and Monica.
"I started out slow early in the summer, but I was doubling up near the end," Howard said. "It's a good fun workout. I tried to help keep my daughters motivated. You have to practice what you preach."
Bulldog Days also saw its highest number of t-shirt recipients this summer. Although the minimum was increased to 25 workouts, there were 93 t-shirts handed out Friday.
A total of 475 different people came to at least one of the 132 possible workouts this summer. Cheryl McCrary, who runs the program with her husband, figured up that there were 4,951 workouts done at Bulldog Days this year.
"We had a great turnout this summer," G. McCrary said. "It keeps getting bigger and bigger each year. The thing that impressed me was we had more families come out together. We had more families than ever before."
One of the t-shirt recipients was Zach Durr, a 2008 BHS graduate. Durr enjoys the program because it keeps him conditioned for baseball practice in the fall while he spends time with friends.
"I thought it was really fun," Durr said. "It's a good way to stay in shape during the summer and get ready for baseball conditioning in the fall. It's fun to come out here and push yourself against other people.
"Connor (Wright) and I run together every time," he said. "We push ourselves. We're not really trying to get first, but you push yourself and see what happens. It's fun."
Despite the increased attendance and t-shirt winners, G. McCrary and Howard would like to see more high school and junior high students attending next summer.
"It does alarm me that we don't have more teams coming out and participating as teams," McCrary said. "There is none of that competitiveness to show up more times than your buddy or teammate. We've had some high school kids attend with a friend, but never as teams."
Howard went as far as saying the BHS teams should use Bulldog Days as a team workout program.
"I challenge more kids to come do it," Howard said. "I'd like to see it implemented at the high school level for each team. They could do a point system for each time they show up. I challenge more kids to reach the 25 mark."