Title-defense training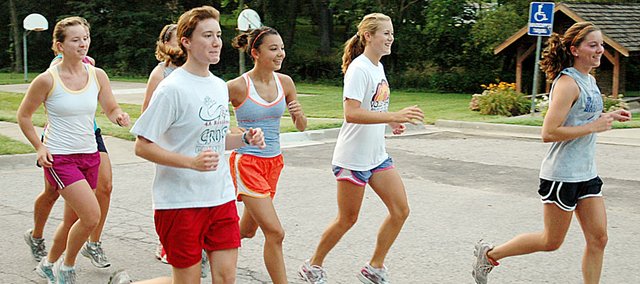 Julie Hill and Connor Twombly have been trying to do what they can this summer to insure a three-peat on the Class 4A girls' cross country state championships.
Two of the three top runners from the Baldwin High School team that won a second straight 4A state title were seniors. Now, this year's seniors are working to keep that streak alive.
"We lost two great girls in Calleigh (Durr) and Corinna (Papps), but we have a lot of girls stepping up this summer," Hill said. "It's produced some friendly rivalry during the runs. I think we'll be just fine."
The two BHS seniors are hoping they can repeat as state champs on Oct. 31.
"We've been really working hard this summer," Twombly said. "We hope it all pays off this season."
To help insure the chance of a successful season, the pair of BHS seniors have been organizing workouts for the team during the past two months. They only waited two weeks after the spring track season was finished before they started training for the fall's cross country season.
Like most high school athletes, cross country runners also usually train on their own during the summer. Team members do meet up for runs, but on an optional basis.
Despite the runs being optional, Hill and Twombly had no trouble rounding up Bulldogs to join them.
"At first, only three or four of us girls would show up," Hill said. "Now we have a lot of girls out here. We've had eight or nine of us here this week."
One of those summer runners has been freshman Sienna Durr, the younger sister of departed senior Calleigh Durr. The newcomer to the cross country program has enjoyed working out with her soon-to-be teammates.
"It's been a lot different than what I'm used to," S. Durr said. "We go a lot faster than I would go with my mom. It's more intense than when I run with my mom. I'm also more competitive with the team and I want to stay up with the other girls. It's a lot of fun running with the girls. I've seen Calleigh do it for four years, so now it's my turn."
Early in the summer, the Bulldogs met two or three times a week. In recent weeks, they've met six times during a given week, according to Twombly.
Although they are meeting most days of the week, not everyone is able to attend every day. The two seniors have also tried to keep the mileage down, but still getting in enough to benefit them. Their highest mileage week was estimated to be in the upper 20s.
"I think right now, it just helps us to run as a team," Twombly said. "Once the season hits, we can work on getting faster. We're just trying to work on building a base right now. We also want everyone to get motivated for the season."
It hasn't all been distance running this summer for the cross country girls. They've also been attending the Bulldog Days summer workouts, which give more of a full-body workout with pushups, situps and other plyometrics.
"It's a good warm up for our run," Twombly said. "I have to be careful when we do longer runs, because I don't want to wear myself out. Usually it's a good warm up for me."
Some days they don't stop at just running. They go swim laps at the Baldwin City Municipal Pool. Hill said she usually swims around 0.5 of a mile or more after running.
"It can be a long morning sometimes," Hill said. "However, once you're done, it's only like 8 a.m."
Twombly agreed, especially when she does all three on the same day.
"I think the hardest days are when we go to Bulldog Days, then go running and swimming after the run," she said. "That's hard to do, so we only do that a couple times a week, maybe."
The Bulldogs begin practice at 6:30 a.m. Monday. The seniors are ready for their final campaign to begin.
"I'm excited to start practice," Hill said. "I'm also excited to see coach. I haven't seen him all summer. This has definitely been the best summer training I've ever put in during my time here."