Vinland Fair set to begin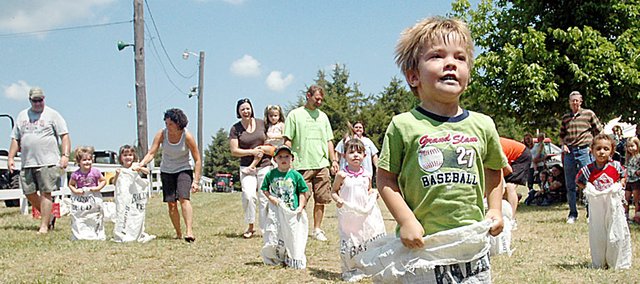 It's not just a fairly good fair, the Vinland Fair is the best of them all, says Julie Craig.
"The Vinland Fair is unique and it's better than most fairs," said Craig, who along with her husband Mike have been presidents of the fair for years. "There aren't the distractions that are at most fairs, like the distraction of the carnival.
"It's a way to end the summer with a big picnic, a block party of family fun," said Craig.
This is the 102nd straight year that the fair has graced the Vinland Valley. All the staples of the family-fun fair are in place again. That's games, activities, talent show, tractor pull and food — lots of delicious, homemade food including the famous to-die-for pies.
"The weather has been great and we're looking forward to it," she said. "There's nothing new, just a lot of the same old things that everybody loves."
The fair kicks off Thursday and lasts through Saturday night. Highlights Thursday are the Old Time and Modern Farm Skills contests at 2 p.m., the talent show at 6:30 p.m. and a performance by the Alferd Packer Memorial String Band at 7:30 p.m. Among the farm skills in the contests are nail driving, corn shelling, bale tossing and log sawing.
On Friday, there are games and races throughout the morning and afternoon, with the big-four contests including sack races and tug of war scheduled for noon. Friday's big draw is the tractor pull that starts at 7 p.m. The Wood Valley Pickers Band plays at 7:30 p.m.
Saturday starts with the horseshoe pitching contest at 9 a.m.; the box turtle race and pet parade is at 11 a.m.; watermelon seed spitting contest is at 2:30 p.m.; lawn and garden tractor driving skill competition, including the popular backseat driving, is at 5 p.m.; the homemade ice cream making competition is at 7 p.m., with the ice cream served after judging; and the fair finale will be the Witness Band playing at 7:30 p.m.
The food menu has chili dogs and cornbread — a newcomer — on Thursday, the famous chicken and noodles and barbecued beef on Friday, beef brisket and barbecued beef dinners on Saturday and — best of all — homemade fruit pies all three days.
There is one favorite missing after a two-year run. The hot air balloons will not fly, a victim of the economy and no sponsors.
"We hope to get them back next year," said Craig.