Old, new 4-H'ers back to county fairgrounds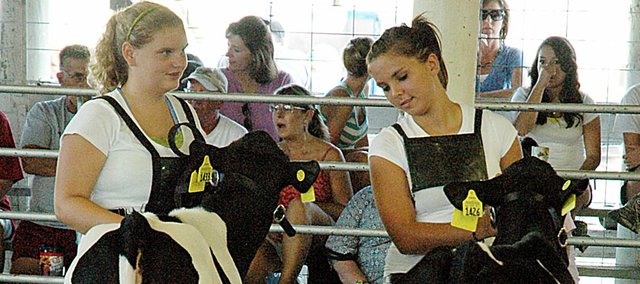 Area 4-H'ers — past and present — have taken over the Douglas County Fairgrounds in Lawrence this week.
It's the current 4-H'ers who will be winning ribbons and trophies at the annual county fair, but it's the former members who help organize and run the contests each summer.
Several Baldwin City area adults now volunteer their time each summer to help at the annual fair. They usually come back for family or friends.
"I keep coming back for the people," said Katy Taul, a 2003 graduate of Baldwin High School. "I just can't get it out of my blood, I don't know. I enjoy coming back and helping each year. Every year I see someone new that I didn't know."
Kelly Haeffner, a 2005 BHS graduate, feels the same way Taul does about 4-H and the fair. She enjoys coming back each summer and visiting with people she's met and others she remembers as toddlers.
"You get to know so many people and you create relationships that are everlasting," said Haeffner. "You come back each year and it's like your family is there to greet you. I have to catch up with everybody and see who's winning what now. I'm seeing kids now that were in strollers when I was in 4-H. I'm like, 'When did they get this big?'"
John Brown does have relatives still involved in 4-H, but he feels compelled to volunteer his time at the county fair.
"I don't really know, but 4-H gave a lot to me, so I feel like it's my duty to give back and help out," he said. "My family is still involved, so I help out where I can. It's good to come back each year and see the younger 4-H'ers grow up, mature and improve in a lot of their work."
The annual fair, which began last Saturday morning and ends this Saturday night, will attract hundreds of county residents for animal shows, the demolition derby, carnival and many other events. It's a weeklong event that local 4-H'ers look forward to each summer.
"I'm very glad the fair is back," said Colton Horne, a Baldwin City 4-H'er. "I like the fair. They made some changes this year and I don't know how well that's going to go. I'm mostly just looking forward to hanging out with friends."
Of course, former 4-H'ers enjoy the fair, too.
"I love fair season," said Haeffner. "It's the best. I think it's just a good time for everyone to get together, have fun, make some cookies, show animals and have some water fights. It's a good time for everybody."
The county fair organizers made several changes to the schedule this year. One of those was moving the dairy cattle show to Tuesday evening in the judging arena, instead of the community building.
They also moved the annual livestock auction from Sunday to 6:30 p.m. Saturday. Brown thinks the changes should be beneficial to the fair.
"Hopefully, the changes help spread things out a bit and maybe draw a bigger crowd to the auction," he said. "It's moved to Saturday night, which will hopefully help draw some more buyers to help these kids out."
One thing that hasn't changed is the weather. Unseasonably cool temperatures have kept local residents comfortable the past few weeks.
However, temperatures soared back into the 90s this week and may reach upper 90s by this weekend.
"I was hoping it would stay cool like last week, but it didn't," Horne said. "Every fair is hot, so we're used to it."