Neighbors: Steve Friend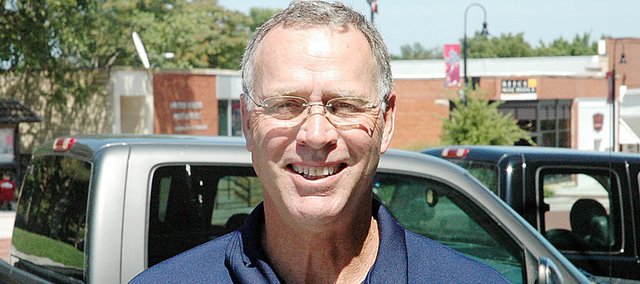 Name: Steve Friend
Occupation: Baldwin City Recreation Commission director
Family: Married – four children
Place of birth: Fort Belvoir, Virg.
Q. How long have you lived in Baldwin City and what brought you here?
A. I've been working in Baldwin City for the recreation commission for a year and a half. I had been working in Burlington for 30 years and I was eligible for retirement and, quite frankly, ready for a new challenge. I had just started thinking about finding a new position when the opportunity arose to come to Baldwin. My wife and I thought that this would be the perfect location to move to. It is still a small town, she is still fairly close to her family and it is close to conveniences found in the city.
Q. What's the biggest risk you've ever taken?
A. I think that leaving my comfort zone in Burlington with my job, friends, family and routines has been the biggest risk I've taken.
Q. What's the best piece of advice you've ever been given?
A. I learned a long time ago that I couldn't worry about pleasing everyone else, but had to focus on pleasing myself with when it comes to my job. I'm satisfied that if I am doing things the way I think they should be done that others will be pleased with the outcomes.
Q. What two things would you want people to know about you?
A. I would say that the two things that I would want people to know about me is that I am honest and loyal.
Q. What did you want to be when you grew up?
A. I spent a lot of time at a Boy's Club as I was growing up in Fayetteville, Ark., and I always wanted to be involved with kids and sports. This led me into teaching/coaching and finally into the recreation profession. I have no regrets about my career choices.
Q. What's the best way for you to get away from it all?
A. Originally, a good basketball game was how I escaped. Now, I really enjoy getting out on a golf course, especially, in the mornings at 6 a.m.
Q. What's your ideal vacation spot?
A. Anywhere with a warm climate with golf courses nearby.
Favorite things
Song: Remember When by Alan Jackson
Movie: M.A.S.H.
Color: Green
Food: Grandma's brown beans, cornbread and pie.