European experience
BHS

alumna Emily Brown playing volleyball overseas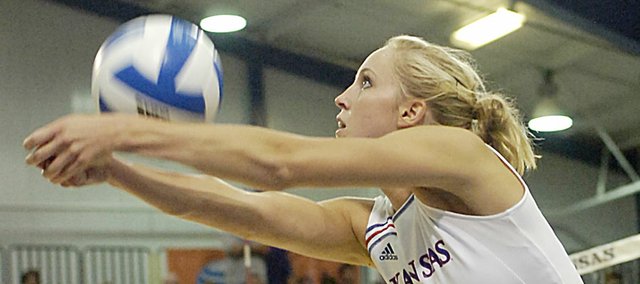 Emily Brown wasn't quite ready to graduate college this May.
She had dreams of continuing her volleyball career at the next level. The former Kansas High School player of the year turned that dream into a reality instead of student teaching during her final semester at the University of Kansas.
"Oh, no. I'm not ready to be a teacher just yet," said Brown, a 2004 graduate of Baldwin High School.
The former Bulldog led her high school squad to a runner-up finish at the Class 4A tournament in 2003. For the next four years, she wore a Kansas University Jayhawks uniform.
Brown's final season came in the fall of 2007. During the next year, she worked with a trainer and worked volleyball camps, but her competitive days looked to be finished. In her mind, those days weren't quite over.
"All through college, I always knew after my four years were up, I had a chance to play overseas," Brown said. "The U.S. doesn't really have any professional leagues. They tried it, but it didn't really catch any attention. I had a couple of past teammates from KU that went overseas, so that's how it got in my ear.
"When I was done, I had that spring semester off," she said. "My roommates still played and I was always at the games. I thought to myself, 'I'm not ready to be done yet.'"
Emily's mother and high school coach, Jill Brown, guided her daughter to continue playing volleyball, while she was young and independent.
"I was excited actually, because it's neat to have the chance to travel to different parts of the world," Jill said. "I thought it was a neat idea, especially being young and not really having anything tying her down right now. There will probably be a time where she won't be able to do that, so I think it's great that she could do that now."
After playing half of a season in Slovakia, Brown signed a new contract with another European team this summer. In one week, she will be flying to France, where she will be spending the next nine months.
"She is excited and ready to go," Jill said. "She has been, but the closer it gets, the tougher it gets for her, too. It's a little harder, because last time it was only that half of a season. This is going to be a full season from August to May. It's basically a whole year she is trying to pack and prepare for, so that's been really hard. It's a little overwhelming in that way."
Where is Slovakia?
In January, Emily traveled to Europe to play on a volleyball tour that some of her former KU teammates joined. During the tour, which she compared to a recruiting process for European teams, a coach noticed her skills.
After practice one day, one of the head tour men approached Emily and told her a coach was wondering if she would tryout for his squad. She agreed, despite not knowing what was going to happen.
"I was like, 'OK.' I knew nobody," Emily said. "It was scary. I hopped in a car with some Russian-looking man, but he spoke English, and we drove four hours through the Alps to Slovakia. Then I went to another practice and I was there ever since. I was there for four months."
Slovakia wasn't a country Emily was familiar with. In fact, she had no idea where it was at all. Luckily for her, the Internet gave her the answer.
"I had to Google Slovakia," she said. "I totally looked it up on Google Earth. It's a central European country."
Adjusting to change
Once she landed a spot on the team and a place to live, Emily still had many obstacles to overcome. First, she was living on her own in a foreign country. She was used to living 20 miles from her hometown.
"It was scary being in Europe and living alone," Emily said. "Yet, at the same time, it was like, 'Oh my gosh, I'm living in Europe and I'm alone, which is exciting.' I kind of got the best of both worlds. It was good to do something on my own. I went to school 30 minutes away from my mom, so I think it was time to experience life on my own, where I can't rely on her."
Emily quickly found a way to stay in contact with her family in Baldwin City. They both downloaded Skype, which is a Web-based application that allows users to make voice calls. Emily also purchased a Web cam.
Despite being several time zones away, Emily and Jill began talking more than they had in years.
"What's funny is that I probably talked to her more when she was in Europe than I did when she was at KU," Jill said. "When she was here, she was always out with her friends. When she was in Slovakia, the time difference is so much, that I would talk to her at 6 a.m. She would be on her afternoon break and I knew none of her friends were up talking to her at that point, so it was kind of nice. We probably talked almost every day.
"She could walk around her apartment or look out her window at the city, so we were able to see some things that way," she said. "She would just kind of carry her computer around to show us around."
Emily solved the communication problem with her family. Now, she had to overcome the language barrier with her team. Although her coach could speak English, he coached in the native language — Slovak.
For the first couple of months, Emily would stand on the sideline at practice with a confused look, while her coach instructed the team in Slovak. Then he would point to a spot and tell Emily to go there, yet she had no idea how to do the drill.
"I learned a few words in Slovak," Emily said. "I did get pretty lucky with my coach being fluent in English. Then probably four or five of my teammates spoke some English and helped me get by. We were able to have some conversations in English."
While on the Slovakian team, Emily did earn a monthly salary. While it wasn't comparable to an American professional athlete's salary, she didn't have to pay for much while there. Emily also earned bonuses for any tournament her team won, which was all of them.
"The volleyball isn't that great," Emily said. "It's not like the Big 12 volleyball that I'm used to playing. It's a little bit lower level."
Finding a new team
As her season came to a close this spring, Emily had to make a choice of whether she wanted to continue playing or head back home to finish her teaching degree.
Her agent contacted a team in Finland that needed a player at her position. Emily soon e-mailed an American player, who was on that team. The two exchanged messages about the team and information about the area.
"She said the team wasn't that great, but she's been there one year and she's staying another year," Emily said. "She is staying for a boyfriend, though. She said it's really not that great and if she didn't have a boyfriend there, she probably wouldn't have stayed. In the winter, it's dark for 21 hours of the day. She rides a bicycle through a meter of snow to practice every day. There is snow from August to June. I was like, 'No way am I doing this.'"
Emily declined that offer. An offer from a team in Nantes, France, came soon after she said no to the first. Nantes is located in northwest France, about 30 miles from the Atlantic Ocean and an hour's ride to Paris by train.
"I'm excited and I think she'll enjoy the western European culture better," Jill said. "I think she might run into more people that speak English, too. I hope it will be a little bit more similar to home. We keep telling her it will be like that, but we're not sure if it will. We just hope so."
Next opportunity
Beginning Aug. 16, Emily will begin her first full season of volleyball since her time as a Jayhawk ended in the fall of 2007. Her time as a college student will once again be put on hold, while she continues her athletic career.
"The longer I waited to do this whole volleyball thing, the less of a chance I had," Emily said. "When I'm done, I'll just need a semester of student teaching, then I'll be good to go."
This new team and contract might even include a family visit. During her time on the Slovakian team, Emily asked her mom about the possibility of her parents flying to visit her.
Jill recollects telling her that if she took the contract with the team in France, they would make the trip. No plans are set yet, but if it does happen, Jill hopes her daughter can find time away from the team to spend with them during the vacation.
"What I would love is to see a match, but also hope she could have some time off so we could travel a little bit with her," Jill said. "I've seen her play many matches, and I would love to see a match, but I'd enjoy spending time with her as a family more. We'll have to work that out, but that's our plan anyway."
Emily will once again be in contact with her family while overseas. That's one burden that will be much easier a second time around. She also hopes the language barrier won't be as difficult.
She studied French for two years at BHS. While that was many years ago, Brown is hopeful some of it will come back to her sooner, rather than later. Her contract does include French lessons, too.
"Hopefully, it comes back to me when I start hearing it," she said. "We'll see how those lessons go when I get there."
She isn't sure how long she will continue playing overseas, but she does know her bachelor's degree will wait for now.
"I will graduate, sometime," Emily said. "I definitely need to get that degree."