School district gains $3.4 million
FEMA

grant for safe room at auditorium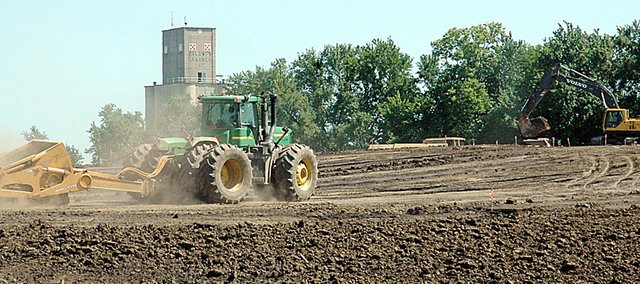 Washington, D.C., smiled on the Baldwin School District this week to the tune of a $3.4 million grant to build another tornado-proof safe room.
"We got the big one," said Supt. Paul Dorathy, who learned of the grant approval Wednesday. "This is for 1,800 people. The question was whether they were going to give us the grant for 1,500 or 1,800 people."
The Federal Emergency Management Agency grant paves the way to construct the new Performing Arts Center almost entirely as a safe room capable of withstanding an EF-5 tornado. The school district's 25-percent match of $1.1 million will turn the 16,100-square foot building into a $4.5 million safe room. Voters had approved $3.1 million for the auditorium during November's bond issue election.
"This has added a huge worth for the PAC because of what we're able to put in it and have the safe room," said Dorathy. "Basically, all but a little lobby out front will be a safe room."
He said the building's walls will consist of 2-foot-thick concrete panels that weigh 80 tons each. The roof will be reinforced concrete, too, but not that thick.
"It'll be a place where if we ever have to face that, and I hope we don't, we can survive a pretty severe tornado," said Dorathy. "This is unbelievable. I feel good about this one."
It also puts the project, which will be built between Baldwin High School and Baldwin Junior High School, back on track after it had been put on hold by the school board.
"This opens the way for the design team to move forward," he said. "The board had said let's wait until we see what happens with the grant."
The project will likely go to bid in late September or early October, with a completion date of December 2010 or January 2011, he said.
"We won't have an exact timeline until the design group has completed plans," said Dorathy.
He also said the process went through several more channels than did the recently announced $450,000 FEMA grant for construction of a safe room at the new Baldwin Elementary School Primary Center.
"Because of the amount on this grant, it had to go through the state and area offices, and then went to Washington where it was approved," said Dorathy. "A $3.4 million grant is a sizeable grant. It took a lot more hoops to jump through to get it."
Terri Smith, director of Douglas County Emergency Management who has helped with both grant applications, was excited to hear about another success.
"I think it's great that a community has taken the step to want this for the faculty and students," said Smith. "Many times I wish people would go for it. It is a lot of work to go for these grants. But as long as there is money out there to match, people should do it."