City mill levy to go down slightly, but electric rates could soar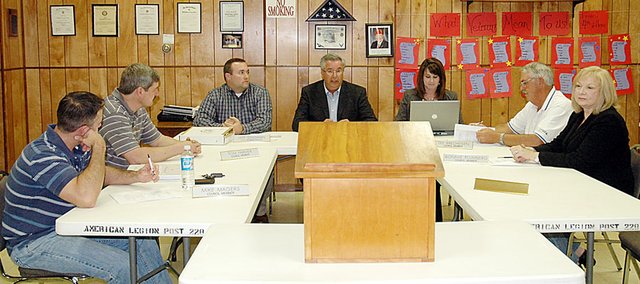 Good news is the city's mill levy will go down slightly next year. Bad news is it will likely take an 11.5 percent increase in electrical rates to do that.
That's what the Baldwin City Council found out at Monday's meeting where a public hearing was conducted for the 2010 budget totaling almost $14 million, which is a reduction of 14 percent from last year. It will take 30.547 mills in taxes to produce that, a reduction from last year's 31.407 or a decrease of 0.86 of a mill.
But City Administrator Jeff Dingman said it would take the 11.5 percent rate hike in electricity to make the budget work. To offset a $233,000 shortfall in the electric utility this year, a reserve fund had to be tapped. Most of the city's power is bought from KCPL and negotiations are underway on that utility's rate to the city.
"If we don't approve a rate increase, any deficits in the operating fund will have to come out of the money we have in the electric utility reserve," said Dingman. "That can only last so long. If our reserves get depleted, we will be forced to do a rate increase. It makes more sense to do the needed increase now while we still have funds in reserve.
"We worked hard to build that reserve, which is needed in order to help ensure against downtime in the utility," said Dingman. "We've come a long way in that regard."
He said the proposed increase would cost the average residential customer using 750 kWh $8.85 per month. The increase wasn't approved at Monday's meeting, although the budget was, on a 4-1 vote, with Council Member Ted Brecheisen, Jr., voting against it.
The electrical hike will first go through the utility committee, headed by Brecheisen, then to the council for action, most likely at the next meeting. Baldwin School District Supt. Paul Dorathy attended Monday's meeting, along with several school board members, because of concern about electrical matters. He said the 11.5 percent increase would cost the district between $27,000 and $60,000, depending on whether the city put it on a similar rate to Baker University, the largest electrical user, which is based on peak demand.
"I think they've got a lot of talking to do," said Dorathy regarding the utility committee and city council. "It's not a done deal. We'll be one of the players in a pretty significant rate increase to meet that revenue."
The school district is the second largest user of power in the city. If moved to a peak demand charge, there would need to be adjustments made, he said.
"I think what he's talking about is moving us to a rate that puts us on a peak demand charge," said Dorathy. "I think he's still tweaking that. If we go to that, I think we'll ask for some education on how to make that work. We can control our rate a little bit with that."
Dingman said that's what he's still working on. The 11.5 percent hike is for residential customers, while businesses would be at 11 percent.
"One of the scenarios I'm working on for a rate proposal would involve moving the schools and some of the larger-use businesses to a demand-based rate structure similar to what Baker is on," said Dingman. "It probably wouldn't be the same rate as Baker, but would be a similar structure."
The school district contingent was also at the meeting as a result of initially being told there would no longer be free utilities to the ball fields, as has happened since at least 1976. That would have amounted to $6,000 the district hadn't budgeted for this year.
However, the council approved Dingman's plan to go ahead with the $6,000 this year, but reduce it $1,250 per year for the next five years. Brecheisen wanted to amend that portion of the budget to $3,000 for the coming year and nothing after that, but was voted down again 4-1.
Brecheisen's motion to amend was seconded by Council Member Robin Bayer. However, when the vote was made, only Brecheisen voted against it.
Electricity wasn't the only bad news Monday. The council was also informed that Lawrence would again be raising its rates for water delivered to Baldwin City by as much as 43 cents per cubic foot of water. The rate has gone up each of the last three years. But, like the electricity, the water rate increase hasn't been approved yet, either.
"I think we need to start looking for some alternatives," said Mayor Ken Wagner. "I think it's important that the public understand the rules we're playing under."