Horses reign at Douglas County Fair on Sunday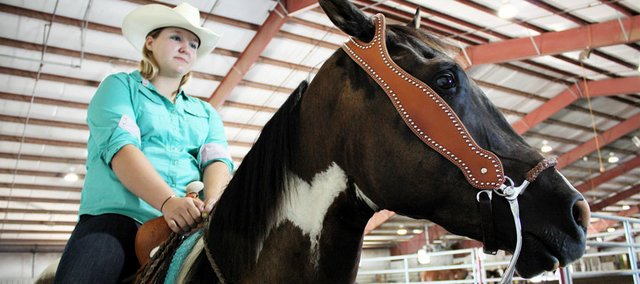 Riders and their horses — both real and wooden — took center stage at the Douglas County Fair on Sunday for the open horse show.
Both veterans and novices came out for the day of riding and racing.
"We like to see the novice kids come out and try to get them hooked on horses," said Gretchen Brumm, the co-superintendent of the open show.
But the littlest riders came galloping in on their own two feet, mounted on their loyal stick horses.
"The judge just had a terrible time making up his mind who was winning," Brumm said of the 33 youngsters who showed stick horses. "We ended up giving blue ribbons to all of them."
This year, the open show had almost 60 riders, quite a jump from last year.
"I think the economy hit us last year," said Brumm. "Gas prices were at $4 a gallon back then. We didn't have nearly as many riders."
The weather also played a part.
"(Today) was perfect for a horse show," said Brumm. "It was really hot last year."
The fair, held at Douglas County 4-H Fairgrounds, 21st and Harper streets, runs through Saturday.