Laurie Clark joins in as "Neighbor"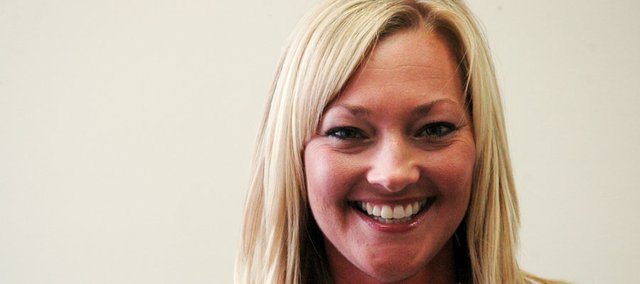 Name: Laurie Clark
Occupation: Cosmetologist at Seventh Street Hair.
Family: Husband Kip, daughter Lakyn, son Tucker.
Place of birth: Garnett
Q. How long have you lived in Baldwin City and what brought you here?
A. We've lived here four years and my husband's job brought us here.
Q. What's the biggest risk you've ever taken?
A. Opening two salons.
Q. What's the best piece of advice you've ever been given?
A. Worrying is like a rocking chair: it gives you something to do, but it doesn't get you anywhere.
Q. What two things would you want people to know about you?
A. I love being without makeup and in a ponytail with a visor on. A perfect day is being in the sun fishing with a cold one.
Q. What did you want to be when you grew up?
A. Dallas Cowboy Cheerleader!
Q. What's the best way for you to get away from it all?
A. Light a fire on my deck in my fire pit and listen to music.
Q. What's your ideal vacation spot?
A. Medicine Lodge fishing holes.
Favorite things
Song: "Have You Ever Seen The Rain" by Creedence Clearwater Revival and "Come Sail Away" by Styxx.
Movie: "How To Lose A Guy In 10 Days."
Color: KU blue.
Food: Seafood.