Baldwin School Board bites budget bullet
Pending cuts in state aid draw hard decisions on teaching positions, administrative costs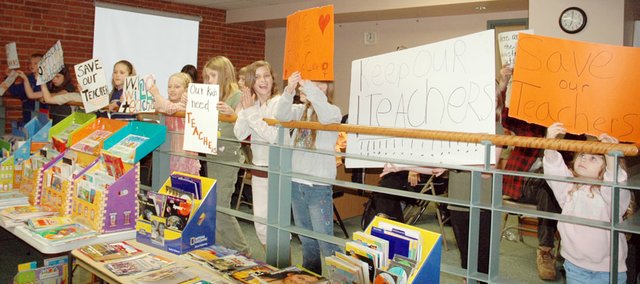 Faced with the possible budget shortfall of $1 million, the Baldwin School Board made some hard decisions Monday night.
The board met for more than two hours in executive session at the special meeting. Board members voted to give notification of intent to not renew contracts for seven teachers, postponed a decision on hiring a new principal at Baldwin Elementary School Intermediate Center and approved a plan that would reduce administrative costs by $100,000.
Supt. Paul Dorathy explained Tuesday that the moves were necessary to be ready for reductions in state aid. The state is experiencing a $238 million revenue shortage and budget cuts will be made. Currently, a House of Representatives plan calls for a cut of $131 per student, while the Senate version is a $75 per student reduction.
With an unknown budget, the board had to decide on teacher contracts ahead of the Friday deadline for notifying them. Monday's action does not eliminate those teachers, but informs them that cuts or changes in contracts could result, depending on state funding, Dorathy said.
"Economics are causing this to be a real crunch," said Dorathy. "The board is not making these decisions because they want to, it's because they have to.
"My hope is that most of them will be retained," he said. "What was done last night, the board gave notice of intent of non-renewal. The letters were delivered to the teachers today. All of them had been talked to before."
He said the final decision on the positions will be made at the May 11 board meeting.
A crowd of more than 50 people was on hand to show their support for one of the teachers, Vinland Elementary School third-grade teacher Matt McCune. A similar crowd had voiced their concerns at a board meeting two weeks ago, but came back this time armed with signs and petitions.
Stacey Leslie, co-chairman of the VES Parent-Teacher Organization, was upset by the board's action when both McCune and Christopher Bulgren, elementary music teacher at both VES and Marion Springs Elementary School, were given notice of intent to not renew.
"Completely disappointed," said Leslie. "Not only did we lose Matt, but we also lost Chris Bulgren. "I have a son in kindergarten and a daughter in fourth grade and to lose both of our male teachers is a huge hit for our close-knit school. We were there to support all the teachers, but it was the Matt thing that started it."
While she understands the money problems, she doesn't like it.
"It all depends on the money," she said. "I'm in banking, so I know what the economy is like. It's so hard in our district when you have the energetic teachers who give so much enthusiasm to our kids and we lose them because they haven't been here long enough.
"This district without Matt has failed its students," Leslie said, adding that she hopes other alternatives are found to save his job and that she knows the school board has tough decisions to make. "I wouldn't want their job."
Dorathy said the notice of intent for non-renewal for the seven had to be done for several reasons. It doesn't mean they've lost their jobs yet.
"There are several of those that we're needing to change their contracts, so we legally need to notify them," he said. "There is the potential with what the Legislature does that we will be able to bring some of those back."
He also doesn't know when the final figures from the Legislature will be known.
"I hope quickly, but I'm not optimistic that's going to happen," Dorathy said.
Also complicating the budget and awaiting action in Topeka is a bill regarding the Local Option Budget. Currently, the LOB amounts to 30 percent of the General Fund. If state funding is cut, the General Fund goes down, too, limiting the LOB. There's a bill being discussed to change that, but if it doesn't pass, there will be even less money.
"That's an additional $150,000 cut unless they pass that bill," he said. "That's part of the reason the board made the action Monday night — because of the unknown."
As for the administrative cuts, there are some savings expected in replacing Tom Mundinger as BESIC principal, a possible restructuring in the administration as a result and other possible retirements. Also, the mileage stipend paid to administrators has been eliminated, saving $10,000.
"That amounts to a 2 percent salary reduction for each administrator in the district," said Dorathy.
As for the votes on giving notice to the teachers, six were unanimous. For McCune, the vote was 5-2, with board members Ruth Barkley and Bill Busby voting against. The Signal doesn't normally list teachers given notice of intent, but the public display and widespread knowledge of the action warranted it.