Lumberyard smiles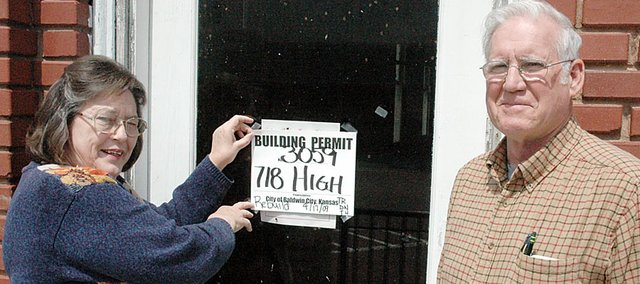 After seven-plus months of waiting, the building permit for the Lumberyard Arts Center Project was given to Jim and Diane Niehoff, who are heading up the project, on Friday. She answers questions regarding what's next.
Q. What does receiving the building permit mean initially?
A. Check out the view from the west door of the Lumberyard Art Center (see photo). We now have the long-awaited permit to proceed with Phase I of the much-needed community art center.
Q. What is the next step in the project to restore the building as a home for the arts?
A. Richman Helstrom Company will re-jack the main supports that were put in place late last summer to compensate for any settling over the last six months while negotiating a building permit. This will insure that everything is once again level.
Q. What happens next with the frame of the building?
A. A framing contractor has been hired to make up for lost time and get the project moving along faster. The contractor will soon begin adding additional reinforcement to the main structure of Phase I, which will allow removing the remaining lower walls to allow working space to cover the area with a gravel base in preparation for concrete.
Q. How soon will it be before the concrete floor is poured in the building?
A. Once the gravel is in place and approximately 48 feet of wall along the east side of the building is poured, the underground plumbing and electrical will be installed. Meanwhile, the city will be running a new waterline down the alley from a larger supply line on Seventh Street. This is necessary to supply the sprinkler system that will be installed. Once all of the foundation work has been waterproofed, we will be ready to pour the concrete floor that everyone has been anxiously awaiting.
Q. What's the easiest way to keep up with the progress of the project?
A. Please check out the progress as you pass by and watch for further updates in the Signal or check our Web site at www.lumberyardartscenter.org.