Home sweet home runs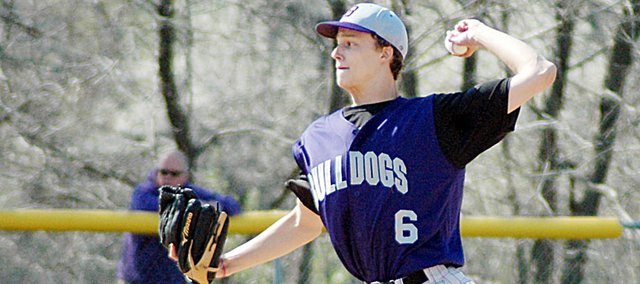 Brock Hartshorn wasn't wearing ruby slippers. Nor did he click his heels three times.
However, the third-year Baldwin High School baseball coach agreed there's no place like home Tuesday evening after his Bulldogs swept Louisburg. The Frontier League doubleheader was the first time BHS has played at home this spring.
"It's nice to be at home finally," sophomore Justin Vander Tuig said. "We've had a few games canceled that were supposed to be at home. We had a few more fans here than we would if we played out of town."
For the first seven games of the season, Baldwin played on the road. Home was a welcome sight for the Bulldogs as they beat the Wildcats 10-6 and 8-4. They Bulldogs (4-5) are now 3-3 in league action.
"The kids really responded to playing at home tonight," Hartshorn said. "They hit the ball well in the first game and hit six home runs for the night. That brings our total up to 10 for the year. We told them the ball will go out of this park without you trying too hard."
After the game, Hartshorn joked about having new fields next year that will be regulation size for hosting postseason action.
"Like I told them, I finally got some kids who can hit the ball out of this little park and they are going to build me a bigger one," he said. "That's OK, because our kids were hitting the ball well. Most of the home runs were line drives."
Five Bulldogs hit home runs Tuesday. They were senior Andy Thurlow, senior Alan Callahan, sophomore Josh Hoffman, sophomore Will Von Bargen and Vander Tuig.
Thurlow said the team was happy to play at home finally and took advantage of the smaller-than-average BHS field.
"It feels pretty good to play at home for once," Thurlow said. "The sweep makes it even better. I'm just glad everyone played well tonight. We hit a lot of home runs, so I guess it helped to play on a small field tonight."
In both games, Baldwin jumped out to early leads. In the first contest, freshman Hunter Burkhart drove home a run in the second inning to put BHS up 1-0. The Wildcats answered with three runs of their own in the top of the third inning.
However, Baldwin responded with a rally, too. Thurlow drove a ball over the right field fence for the first BHS home run. Von Bargen came up to the plate next and hit his home run over the left-center fence. Sophomore Landon Ausherman hit a two-RBI double that scored sophomore Kyle Pattrick and Vander Tuig later in the inning to give BHS a 5-3 lead.
"It felt good, because it was the first homer of the night," Thurlow said. "I led everybody off with my home run. I'm not going to lie, I swung for a couple more. It didn't quite work for me, so I started going back to swinging for regular hits."
Baldwin added a trio of runs in the fourth inning. Callahan and Hoffman hit their home runs in the fourth. BHS led 8-4 after the inning.
The Bulldogs scored two runs in the sixth inning to build their lead. Louisburg scored a pair in the top of the seventh, but BHS ended the game on a double play.
"It was nice to get a win against our opponent in our first game," Vander Tuig said. "It was nice to have that early lead. Several times this year we've been the ones having to battle back, so it was definitely nice to be on the other end of it tonight."
Vander Tuig struck out 10 batters in his six innings of work in the first game. Hoffman pitched the final inning to record the save.
"In the first game, Justin Vander Tuig pitched a great game," Hartshorn said. "This was another really good outing for him, so he has back-to-back good games.
"Josh Hoffman also came in and pitched well in relief both games tonight," he said. "He got a save and a win tonight."
Baldwin began the second game with a 3-0 lead. Von Bargen scored on a wild pitch in the first inning. Then Hoffman and Vander Tuig hit solo home runs in the third inning.
Louisburg scored all four of its runs in the fifth inning. LHS loaded the bases and scored on a walk and two hits. Once again, Baldwin would rally and take the lead.
The Bulldogs scored their first run of the sixth inning on a walk. Then Callahan recorded an RBI to score the game winner. Sophomore Nate Growcock, Burkhart and Vander Tuig also scored during the inning to give BHS an 8-4 lead.
"We got the tying run and then their pitcher got a little wild," Hartshorn said. "I was proud of the bottom half of our order, because that was seven, eight and nine hitters that came up big for us. Alan Callahan hit the game-winning RBI with a single. When your nine hitter wins a ball game for you, that's huge."
During the next week, BHS has a full slate of games scheduled. Baldwin will host a doubleheader against Anderson County today. Then BHS will host a single game versus Saint James on Saturday and travel to Wellsville for a single game Monday. To finish the stretch off, Baldwin will host Paola for a doubleheader on Tuesday.