BHS

softball squad extends winning streak to five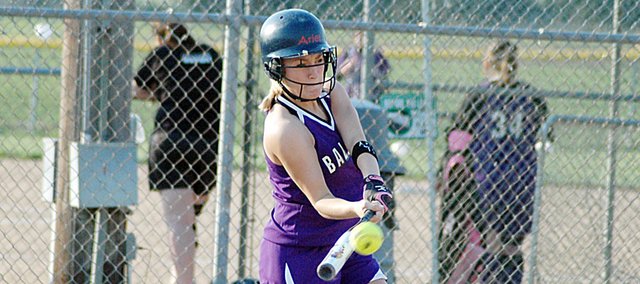 Minimizing opponents' runs and scoring at opportune moments are two main ingredients in the success formula of the Baldwin High School softball team.
It might sound cliché, but sparked the Bulldogs to a five-game winning streak. Two of those five wins came against Frontier League opponent Louisburg at home Tuesday afternoon.
"We're on a little bit of a streak right now," coach Bob Martin said. "Hopefully, we can keep it going. I think we are playing very sound right now. Defensively, we were very sound again for about the fifth game in a row. Part of the reason for the streak is our defense. I thought we also ran the bases really well tonight. We ran aggressively and challenged them a bit."
The Bulldogs (6-2) beat the Wildcats 6-1 and 6-0. The Wildcats became the second team the Bulldogs have swept this season. BHS beat Spring Hill twice on April 15.
"I think these wins will bump us up to third in the league now," senior Sarah Johnson said. "That's pretty exciting. We've won five in a row, but we have Paola coming up next week. It should be fun to play them."
Baldwin will host Paola Tuesday. The Panthers are sitting above the Bulldogs in the league standings, along with the Ottawa Cyclones. However, the Bulldogs were too excited about Tuesday's sweep over Louisburg to look forward too far.
"It felt good to win tonight, especially since I haven't been able to hit well this season," senior Ariel Sanders said. "It's nice that our team is playing well together."
In the first game, Baldwin jumped out to an early lead and played solid defense behind senior Alex Zordel's pitching. Zordel struck out six batters and only allowed run in seven innings.
BHS built a 3-0 lead before the Wildcats scored. Senior Tracie Weege scored Baldwin's opening run in the first inning. Fellow seniors Haley Finucane and Zordel added two more in the third inning.
Louisburg scored its only run in the fourth inning. Baldwin answered with one of its own as Sanders hit a single, stole second base and scored on a wild pitch.
"I knew that I hit off of this girl last year, so I had some confidence coming into today," Sanders said.
The final two Bulldog runs came in the sixth inning. Sophomore Kyla Good and Sanders completed Baldwin's beating of the Wildcats.
While Baldwin's defense and pitching maintained its dominance in the second game, its offense struggled for most of the contest. The top of lineup began the fourth inning and started the BHS rally.
Finucane, Weege and sophomore Morgan Burton loaded the bases to begin the inning. Finucane scored on a wild pitch as Zordel was walked to again load the bases.
Freshman Madeline Brungardt hit a two-run double that scored Weege and Burton. Sanders followed her with a double. Zordel and Brungardt also scored on Sanders' hit.
"Our top of the order is hitting really well right now," Johnson said. "The rest of the team is getting better at batting. We're coming together."
Zordel continued her dominance on the mound. She struck out four batters and allowed no runs.
"Alex is doing the job," Martin said. "She is keeping people off balance. She is making good pitches when she needs to make them. She is also letting her defense help her from behind. She is pitching awfully well right now."
The Bulldogs travel to play Saint James at 4:30 p.m. today. Then they host Paola at 4:30 p.m. Tuesday.
"They feel like they can play well if they do things right," Martin said. "We have a little momentum right now, so we're trying to keep things going."