Weather smiles on Easter egg hunt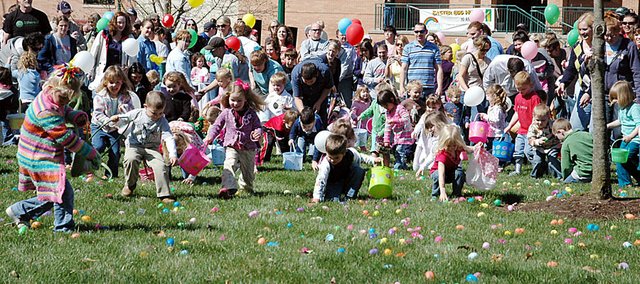 On Saturday morning, the sun was shining on Baldwin City and its youthful Easter egg hunters.
For the first time in three years, the annual Rainbow Experience Preschool event was outside. Local residents took advantage of the weather and covered Baker University's campus.
"We usually try to go every year," said Kit Harris, Baldwin City resident, who attended with his wife and three children. "There was great weather this year and it was a great day for the kids. That was probably one of the biggest crowds they've had out there in a long time. It's nice to get in the Easter spirit."
Event organizer Christy Lund said it was probably the largest crowd the event has ever had. It was moved inside Collins Center for two years, but moved back outside this spring.
"We had a very nice event today with a great turnout," Lund said Saturday. "The weather was perfect. It was warm and not windy. We couldn't have asked for better weather.
"It felt like a real egg hunt out here on the grass," she said. "We had a good crowd and lots of activities for the kids. It was perfect."
While the egg hunt was the main attraction, the event was filled with several activities for the youngsters. There were games, moonwalk bouncer, clowns, balloons, identification kits and pictures with the Easter Bunny.
"There were lots of things to do for the kids," Harris said. "The Baker campus is the perfect location for it. I'm glad they put it together each year."
Along with the children's activities, there was the annual silent basket auction. Each year the preschool uses it as its primary fundraiser. On Saturday, it brought in $1,200 for Rainbow Experience Preschool.
Lund said she is retiring from the role of event organizer this year, but she is confident the next coordinator will do a great job next spring.
"It's all for the kids," she said. "As long as they are smiling each year, we know we've done our job."