VES

parents storm board meeting for McCune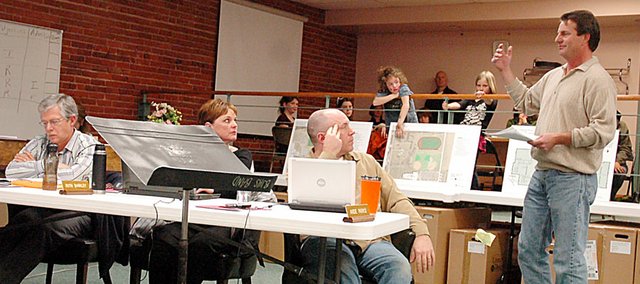 Support to keep Matt McCune as a Vinland Elementary School teacher came out in droves … once again.
Parents and families packed the District Office on Monday night for another Baldwin School Board meeting. More than two dozen people were there to defend the VES third-grade teacher.
"I'm here tonight to support one of our outstanding teachers at Vinland Elementary," said Stacy Leslie, a VES parent. "I've known this teacher since he was a toddler, along with his family. My daughter was in his third-grade class last year."
In March 2008, VES parents attended a school board meeting supporting McCune after an incident happened at the school with materials he used in his classroom. A handful of parents signed a letter that was given to the school board that night and he was retained.
On Monday, the support was once again centered on retaining McCune as a VES teacher. While no official statement was given by school officials, the parents said McCune was recently informed his contract would not be renewed since he isn't a tenured teacher. His status as a tenured teacher, which requires at least three years in the district, was up for evaluation this week.
"I know it upset a lot of parents, students and teachers here at Vinland," McCune said Tuesday afternoon. "I was up for my tenure evaluation tomorrow (Wednesday). I know I have lots of support at the school and with the parents."
Upon hearing the news, several parents of VES students wanted to voice their opinions to the school board. Six parents and two students spoke during the public comment portion of the meeting in support of retaining McCune.
"Male teachers in primary education are sorely underrepresented," said David Wismer, whose daughter had McCune as a teacher last year. "Vinland is very fortunate to have an outstanding one. We're not here to discuss an average or very good teacher; we're here to discuss an outstanding teacher. That's why we are asking you to step up and keep Matt with us."
Nearly everyone who spoke expressed their feelings about his teaching abilities and the childrens' joy to be in his class.
"His creativity, enthusiasm and charisma for teaching his students were felt by every student in the class," Leslie said. "He's not a good teacher; he's a tremendous teacher. His approach to teaching makes learning fun. He's a teacher that makes a difference in a child's life. He is an incredible human being, who wants to do his job. He wants to teach children."
A pair of VES students spoke to the school board about their beloved teacher. Hannah Upton, a VES fourth grader, enjoyed McCune's class last year.
"He really inspired me by being a great teacher," she said. "He was a great social studies teacher. He is really nice and energetic. I hope he stays for a really long time."
The other student will be in third grade next school year. He hopes McCune will be teaching that class next fall.
"I really want Matt as a teacher next year," Martin Tomlinson said. "I've heard of some of the things he does, like 'Junkyard Wars.' He also has recess games and summer camp. I'm really looking forward to next year."
It was the parents who spoke at length about the teacher and the reasons their families enjoy his class. Leslie even spoke about a personal time in her life and how McCune helped her daughter last year.
"On a personal level, he was there for my daughter when I got divorced last year," she said. "He was there for me and my daughter from day one. He was my eyes at the school. My daughter remained a straight-A student at age 8 when her world got turned upside down. I know for a fact that if it wasn't for his guidance and his caring for his student, she would have faltered at some point, but she didn't."
No decision was made on McCune's status Monday night. The school board must inform teachers by May 1 if they will not be renewing their contract. The board has planned a special meeting at 7 p.m. April 27. The VES parents hope they will decide to keep their teacher at that meeting.
"When you take someone like him out of the infrastructure, it flattens," said Sandy Chapman, who's had students in McCune's class. "You lose your spark. You lose your motivation. You don't move forward. We have great bricks and mortar, so now let's fill it. Let's put the best we have inside it."