Third time's a charm for Papps
BHS

distance runner breaks girl's steeplechase school record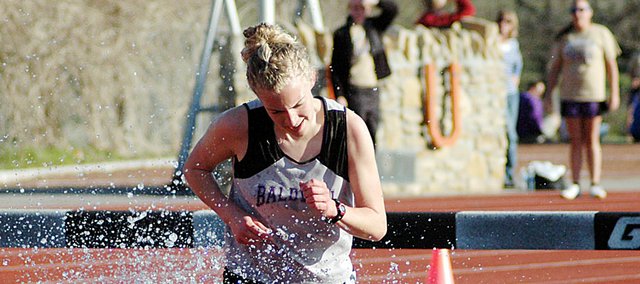 In a matter of five days, the Baldwin High School girls' track team has competed against a handful of much larger schools at two different meets.
Last Thursday and Friday, the Bulldogs were in Wichita for the annual KT Woodman Invitational, which was renamed the Shocker Pre-State Invitational this year. In Wichita, they competed against some of the state's best and many Class 4A, 5A and 6A schools.
On Tuesday, the Bulldogs were back home for their second home meet in 12 days for the annual Baker Relays. At the meet, Baldwin battled several Kansas City and Missouri schools.
"Overall, we've had two pretty productive meets as far as competing against quality competition as well as different schools of different classifications," coach Ted Zuzzio said.
Baldwin won the team title at the Baker Relays with 156 points. Kearney (Mo.) finished second as a team with 143 points. BHS won three events and broke one school record Tuesday.
"We've had a great competitive meet," Zuzzio said. "Everybody got to compete today. All of our times, jumps and distances were better today. We had good weather, good competition and gave great effort."
Senior Corinna Papps set a school record in the 2,000-meter steeplechase. She ran 8:00.55 in the seldom run high school race. She broke Erica Ogle's previous record time of 8:14.
"That's exciting to know," Papps said of owning a school record. "I'm on there for the 4x800, but it will be nice to have another one up there. It's been a good start to my senior year."
Papps ran the steeplechase at the first two meets, but ran 8:16 both times. She was chasing the record this season. She took advantage of a warm, calm day Tuesday.
"I guess the third time is a charm," Papps said. "I knew this was my last time to run it, so I had to make it a good one. I had motivation to get the record. I was really happy with my race. I definitely had nicer weather today. I knew I had to do it, because it was my last shot in high school to run the race. I got it done."
Fellow senior Calleigh Durr placed second in the steeplechase. She ran a 8:42.15. BHS has placed first and second in the event during the first three meets.
"That's sweet," Zuzzio said. "We got first and second and a new school record. Those two seniors have ran well all four years and one of them left here with a school record today."
Baldwin's other two victories came in the field events. Sophomore Allison Howard won the discus with a throw of 115-feet-4. She has placed first or second in the discus at the first three meets.
"It's always nice to win at home," Howard said. "The last couple times out I've been second, so it was nice to win it today."
The other win for the Bulldogs came in the javelin. Junior Taylor Brown won the event with a toss of 92-3. While the Bulldogs didn't win any more events, they placed high in almost every relay and field event on Tuesday.
Baldwin's success in Wichita came against some of the state's best in all classes. Leading the way again was Papps and Durr in the steeplechase. They again finished first and second.
"Our meet started off with a great showing in the steeplechase," Zuzzio said. "We won that because we have more experience. But we also have two good steeplechasers, too. That was exciting. We finished up that night with Karlin running well."
Sophomore Ramie Burkhart also had a big meet for the Bulldogs. She won the 4A-6A 100-meter hurdles (17.38) in the morning and then the 4A-6A 300-meter hurdles (49.9) in the afternoon. Her time in the 300 hurdles would have narrowly placed her third in the elite race.
"She had a great meet," Zuzzio said of Burkhart. "She went out there, competed and won her two hurdle races."
Sophomore Myranda Behrens finished runner-up in the 300 hurdles (50.03). Howard placed second in the discus Friday with a toss of 118-8. The BHS 3,200-meter relay team lost the elite race to Derby by one second.
"Our two mile relay ran well," Zuzzio said. "A 6A school took us out by a second. The girls all ran pretty consistent in there. Howard also continues to get better each week.
"You could tell it was the first time being there for some of the kids," he said. "It's going to be beneficial for us come late May because they will feel more comfortable with the stadium."
Howard will be the Bulldogs' lone entry at the Kansas Relays this weekend in Lawrence. She will throw discus at 1:30 p.m. Saturday.
"I've been throwing all right this year so far," Howard said. "Hopefully, I'll throw further this weekend at the KU Relays."