Neighbors: Archer Carlson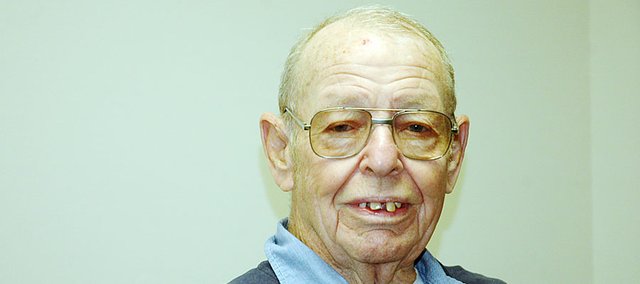 Name: Archer Carlson
Occupation: Retired.
Family: Four children, Linda South, Roger Carlson, Kathy Henley, David Carlson.
Place of birth: Scandia, Kan.
Q. How long have you lived in Baldwin City and what brought you here?
A. I've lived in Baldwin City since September of 1946. My family was here at that time. My grandfather Howell lived where the junior high is. Aunt Ester and her husband lived there and my mother wanted to come live here when I went in the service.
Q. What's the biggest risk you've ever taken?
A. One or two. Pacific was specific. I was in the liberation of the Philippine Islands as well as other battles in the Pacific during World War II.
Q. What's the best piece of advice you've ever been given?
A. Be honest and play it straight.
Q. What two things would you want people to know about you?
A. I'm proudest of my family, of course, and my service to the community is another thing I'm proud of.
Q. What did you want to be when you grew up?
A. I wanted to serve in the military, service to my country. That was the premier thing in the 1940s.
Q. What's the best way for you to get away from it all?
A. Anything that is mind settling, any hands-on project, any puzzle and that's what every lawnmower that comes in is, a puzzle.
Q. What's your ideal vacation spot?
A. Anywhere away from the telephone.
Favorite things
Song: "God Bless America."
Movie: I don't do movies.
Color: Blue.
Food: Anything healthy.