Grand slam momentum carries
BHS

over eagles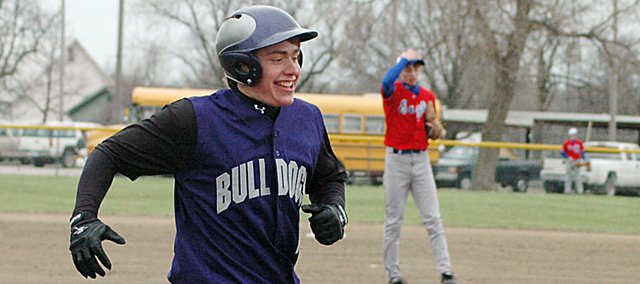 WELLSVILLE — Nate Growcock seized the opportunity to help his team win its first game of the season here last Thursday.
With the bases loaded and gusty winds blowing from home plate to the outfield, the Baldwin High School sophomore knocked a ball over the center field fence. Growcock's grand slam put the Bulldogs on top 4-1 in the third inning.
"Nate works harder than anyone at being a hitter and all-around ball player," coach Brock Hartshorn said.
BHS went on to win the game 8-4 over the Eagles. BHS improved to 1-3 on the season with the victory.
"It was nice to win," Hartshorn said. "We didn't have any errors and we hit some big home runs that got our kids excited. We kept that going through the whole game and got the big win."
Growcock's grand slam scored sophomore Josh Hoffman, senior Andy Thurlow and sophomore Justin Vander Tuig. However, he wasn't the only Bulldog to hit a home run during the third inning.
BHS sophomore Kyle Pattrick was on deck when Growcock's ball cleared the fence. Not to be outdone, Pattrick hit a solo home run over the center field fence to give BHS a 5-1 lead. It was his first-ever home run as a Bulldog.
"It felt great to hit that home run," Pattrick said. "I knew it was gone right when it left the bat, especially with the wind blowing out. I was excited after Nate's grand slam. I came up just trying to start another rally. I just came away with a home run."
Hartshorn was proud of both sophomores for capitalizing when the team needed a confidence booster.
"They were pitching around our clean-up hitter Vander Tuig. They were going to put him on base with runners on second and third. When you're the guy who bats behind the clean-up hitter, you have to come through. Nate came through with a grand slam. Then Kyle Pattrick came up and hit a big home run. Kyle is just on fire with his bat right now."
In the fourth inning, Wellsville also hit a home run. The Eagles hit a three-run shot to close the Bulldogs' lead to 5-4.
Then Baldwin answered with a rally of its own in the next inning. BHS scored three runs in the fifth inning to increase its lead back to four runs. Wellsville never got any closer.
"The win obviously helps our confidence," Hartshorn said. "We are hitting a lot better than we were a year ago at this time. I think our kids are pretty confident when they go to the plate right now. Adding a win to hitting well really should help their confidence."
The game was only six innings long. In the top of the seventh inning, lightning struck near the field and rain showers soon followed, ending the contest.
Despite the shortened outing, the Bulldogs were happy to earn their first win.
"It was a big win for us," Pattrick said. "We really needed that for our confidence. We lost three games in a row before last week."
The second game of the doubleheader has been rescheduled for 4:30 p.m. April 27 in Wellsville.
While weather shortened the contest, it certainly made the first game tough on both teams. Cold and windy conditions were a challenge for both squads, especially for the pitchers.
"It was cold and windy," Hartshorn said. "Jon Eddy threw an excellent game. He threw 90 pitches and got the win. The weather conditions were awful. The wind was blowing out and it was probably 40 degrees. We fought through the conditions to get the win."
The Bulldogs were scheduled to host Spring Hill at home for a doubleheader Tuesday, but rainfall on Sunday and last week dampened the fields. The games were played Wednesday at Spring Hill, but results weren't available at press time. The will be available online at www.baldwincity.com.
Baldwin will travel to Prairie View today, but host Saint James on Monday and Louisburg on Tuesday. All contests will begin at 4:30 p.m.
"Due to weather and our field being muddy, we will be on the road," Hartshorn said. "We haven't got to play at home yet. We are hoping to be at home Monday against Saint James."