BHS

boys tune up for Kansas Relays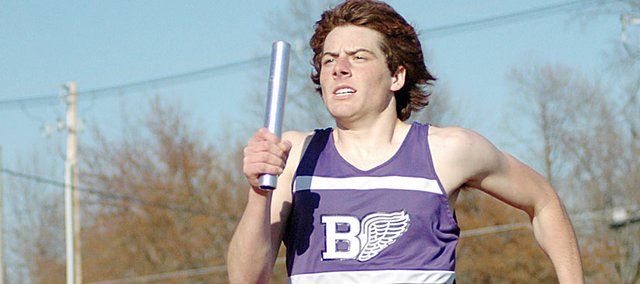 Mike Spielman used Tuesday's annual Baker Relays as a warm-up for his Baldwin High School boys' track team's bigger meet this week.
While all of the Bulldogs competed at their second home meet of the season, some of Bulldogs used the meet as a warm up for the Kansas Relays. The BHS boys' team will send one individual and four relays to Lawrence to compete Friday and Saturday.
"This meets kind of sets us up for the KU Relays," freshman Brian Wright said. "We tried to get out and run faster first laps today."
Each spring, the Kansas Relays brings in some of the state's best, along with other top competitors from Missouri, Nebraska and Oklahoma. BHS senior Connor Wright qualified in the boys' 800-meter run at the Kansas Relays.
Baldwin will be sending teams for the 400-, 1,600-, 3,200- and 6,400-meter relays to Lawrence. The Bulldogs are excited to run against great competition.
"We got a couple of races to run this weekend," sophomore Tony Weiss said. "I'm looking forward to it and I think we can do pretty well. We'll try and keep cutting our relay times down."
On Tuesday, the Bulldogs tuned up those relays against some larger schools from the Kansas City area. BHS won two relays, finished runner-up in another and fourth in 400 relay.
Baldwin cruised to victory in the 3,200 relay and distance medley. The 3,200 relay team of B. Wright, sophomore Carson Barnes, Weiss and C. Wright ran 8:20.75, which was five seconds faster than they ran in Wichita on Friday. Second place on Tuesday was 31 seconds behind.
"We got off to a good start today," B. Wright said. "We all ran great splits. I was able to get us out to a fast start and Connor anchored us to victory. It was exciting and a fun race. We're hoping to do that the rest of the season."
The BHS boys' distance medley was chasing a school record from 2002. The record of 10:54 is held by 2002 graduates Eric Black, Hans Broers, Matt Noonan and Glen Stansberry.
"We knew it was going to be a tough one to break," Weiss said. "Noonan was on it along with a few other good guys. Brian and I are still underclassmen, but we thought we still had a shot."
This class of Bulldogs came awfully close to the record, but just seconds off the mark. They won the race by nearly a minute as they ran 11:02.32. The team members were B. Wright, senior Ryan Kennedy, C. Wright and Weiss.
"It was a good time," Weiss said. "I was pretty happy with it. We were all pretty tired and still ran pretty well."
Baldwin's lone win in the field events came in the javelin. Junior Patrick Pinault threw 148-feet-9 to win the event.
"I was really happy with our meet tonight," Spielman said. "We had a great meet. We are dropping times each meet. Today was a perfect day, weather wise. We are getting better and better on the track and in the field events. It's going really well for us."
BHS changed its 1,600 relay for Tuesday's meet ever so slightly from last week. The team at the Baker Relays consisted of Kennedy, freshman Asher Hannon, Barnes and sophomore Josh Hoffman.
Despite the slight change of adding Hannon for freshman Shawn Berndt, BHS nearly ran an identical time as it did in Wichita. Baldwin finished runner-up as it ran 3:33.51.
In Wichita, Baldwin competed at the annual KT Woodman Invitational, which was renamed the Shocker Pre-State Invitational this year. It included teams from all six classes and an elite heat was created for all events.
"We had a tremendous meet," Spielman said about the meet in Wichita. "I was really, really happy at the end of the day. I would say 75 or 80 percent of our kids had personal bests. We placed high in the competition. It was probably one of our best performances at that meet."
The 1,600 relay won the Class 4A-6A race in a time of 3:33.27. Other winners included B. Wright in the 4A-6A 800 (2:05.46) and the 3,200 relay (8:25.24). C. Wright finished runner-up in the elite 800, running 2:01.62. Senior Isaac Twombly threw 130-5 in the 4A-6A discus to place third.
Kennedy made his debut in the 100-meter dash. In the 4A-6A race, he placed second by 0.01 as he ran 11.46.
"It was my first time running in the open 100," Kennedy said. "I got second against 4A, 5A and 6A schools, so I was happy about that. That was exciting for me, because I've always wanted to run that race."
B. Wright finished runner-up in the 1,600-meter run in a time of 4:36.94. Weiss battled a tough 3,200-meter run crowd and narrowly finished fourth, running 10:06.9.
"Brian and Tony ran great races on Thursday night," Spielman said. "Connor ran a great 800. The relays all ran well. Isaac Twombly had a big PR in the discus. Our high jumpers did well, too. Our sprinters did well also. We scored all over the track and in the field.