BHS

baseball team defeats Wellsville in weather-shortened game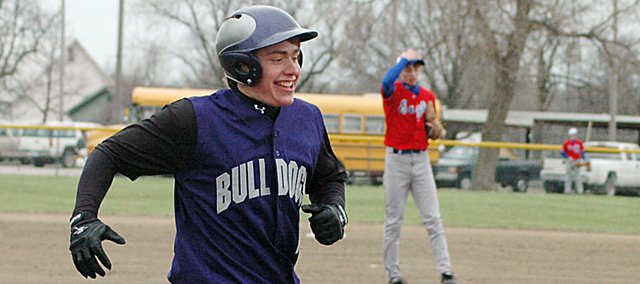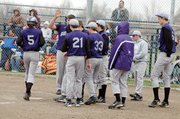 WELLSVILLE —Baldwin High School's baseball team picked up its first win of the season here Thursday night.
In the seventh inning, lightning struck near the field and rain showers soon followed, ending the contest. BHS Activities Director Gary Stevanus said the first game was called officially over, with Baldwin winning 8-5, and the second contest will be rescheduled for a later date.
The Eagles took a 1-0 lead after the first inning. However, BHS displayed some firepower in the third inning. Sophomore Josh Hoffman doubled to center field. He was followed on base by senior Andy Thurlow, who was hit by a pitch, and sophomore Justin Vander Tuig, who walked.
Baldwin's next batter, sophomore Nate Growcock, drove a ball beyond the center field wall for a grandslam. Then sophomore Kyle Pattrick hit a solo home run to give BHS a 5-1 lead.
Wellsville narrowed the margin with a three-run home run in the fourth inning. Once again, Baldwin answered with three runs of its own in the fifth inning.
The Eagles hit a solo home run in the sixth inning, before the game was called just a bit later. BHS is now 1-3 on the season with a home doubleheader Tuesday against Spring Hill. The first game will start at 4:30 p.m.