Voters choose Wagner as mayor; Plumberg, Farmer to Baldwin City Council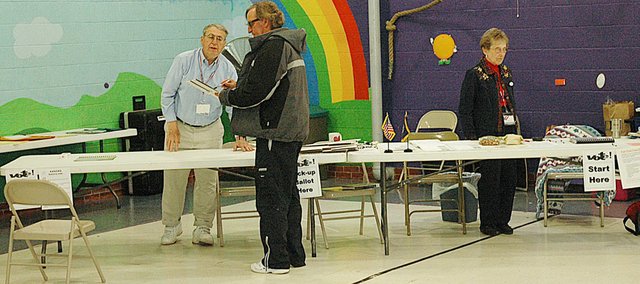 Baldwin City will have a new mayor, Ken Wagner, two new city council members, Bonnie Plumberg and Tom Farmer, and three returning school board members after voters went to the polls Tuesday.
Wagner easily won the mayor's race, picking up 422 votes (54.3 percent) to George McCrary's 231 (29.7) and incumbent Gary Walbridge's 124 (16). Plumberg led the council charge, gaining 27 percent of the votes with 359. Farmer narrowly edged Chris Nichols, 265 votes (19.9 percent) to 258 (19.4). Candidates Russ Gill, 242 votes (18.2 percent), and Ric Gere, weren't far behind either, with 242 votes (18.2) and 206 (15.5).
Baldwin School Board members Bill Busby (687 votes), Ande Parks (677) and Ruth Barkley (676) ran unopposed. Vote totals will not be official until they are canvassed by the Douglas County Commission Friday.
Wagner, who has served six years on the city council, took Tuesday's victory as a message from the voters for change.
"Well, I'm happy, obviously," said Wagner. "I knew it was going to be a close election, but I think it's a very decisive win. I think a lot of the electorate wanted to see change.
" When we took our message to the voters, we emphasized affordability, accountability and encouraging investment," he said. "Those are the three things we hit hard in our campaign. I think those messages are important and resonated with the voters."
Plumberg was also pleased with the outcome and the political newcomer is ready to serve.
"I'm excited to get to work and that's the truth — I really am," said Plumberg. "I'm excited to get down to the job with the rest of the council to work on what needs to be done. And learning."
Farmer, another political newcomer, appreciated voters giving him the nod.
"I'm glad the voters thought I was up to it," said Farmer. "I appreciate the vote of confidence. It was a close race. I look forward to going to work to do what I can."
About 20 percent of Baldwin City's registered voters turned out to the polls. The results they cast were of wide-spread interest, especially with the mayor and council races.
"The mayor's race doesn't surprise me at all," said former Council Member Tony Brown, who is now serving in the state legislature. "I didn't know what to expect in the city council race."
Brown resigned from the council in December and chose Mike Magers to replace him. Current Council Members Amy Cleavinger and Doyle Jardon chose not to run for re-election. Plumberg and Farmer gained those seats.
Wagner has two years left on his council term and will choose a replacement. That could mean four newcomers to the council since December to serve with longtime Council Member Ted Brecheisen Jr.
The variance in votes cast for the incumbent school board members could be because of various reasons. A last-minute write-in candidate push was made Tuesday. The Signal will have more details on the write-in situation as it becomes available.