Tree City
USA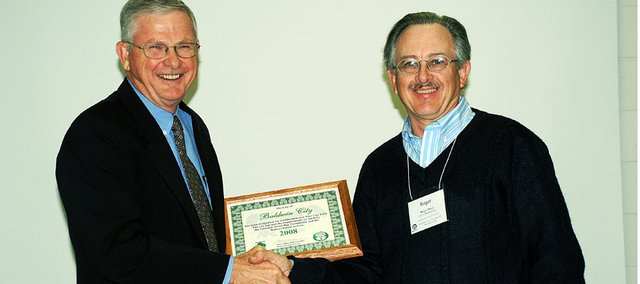 Q. What's been going on recently with the Baldwin City Tree Board?
A. March 25 I attended the Tree City USA Awards Ceremony in Manhattan. We received our TCUSA award for the sixth straight year and we also received a Growth Award for the fourth time. The past couple of weeks we have potted 175 bare-roots trees which will be given to the public next year.
Q. What are in the plans for the tree board in upcoming weeks and months?
A. We will once again be planting trees at Baldwin Elementary School Intermediate Center and Marion Springs for Arbor Day and request an official proclamation for Friday April 24 as Arbor Day in Baldwin City. The following Saturday, May 2, beginning at 8 a.m. next to the Post Office, we will have our Tree Give Away.
Q. Do you work in conjunction with the City of Baldwin City on projects involving trees?
A. In December we had our Christmas Tree Drop-off again near the swimming pool and the city crew then mulched those trees in January. I worked with Bill Winegar and the landowners that lost trees during the Sixth St. project to see if they would like to have some trees replaced. We gave them a choice of placement and a variety of species from Vinland Valley Nursery. These will be planted after the project is completed in May or June.
Q. What kind of help does the tree board get from the City of Baldwin City with its efforts to help with trees here?
A. The city's budget related to planting, pruning, and removal of dead trees, including volunteer efforts, was $22,911 during 2008.
Q. What other tree projects were you involved with this year?
A. In June and July we received 100 containerized trees from Forrest Keeling Nursery near St. Louis. Thirty of these trees were planted at Baldwin Junior High School as a beautification project by David Cook as part of his Eagle Scout Service Project. The remaining trees were planted around town in the right of way of businesses and individuals. That will be continued this year with 50 containerized trees.