Roger tops poetry contest again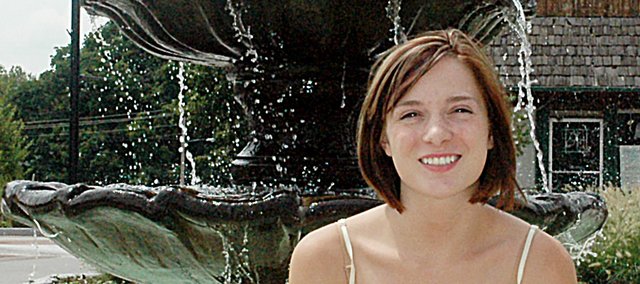 Madeline Roger enjoyed her second trip to the 2009 Kansas Poetry Out Loud State Competition more than her first.
She took advantage of less stress in her life and turned that into confidence. The Baldwin High School senior recently won the contest for the second consecutive year.
"I was more confident this year, because I won last year," Roger said. "This year was more exciting. Last year, I was excited, too, but I had High School Musical going on, so this wasn't that big of deal."
A year ago, Roger was focusing her time and attention on trying out for ABC's High School Musical: Summer Session. She qualified for the semifinals in Los Angeles, but later this month, Roger will be heading to the other side of the country.
As the state champion, Roger receives $200 and an all-expenses-paid trip to compete in the Poetry Out Loud National Finals on April 27-28 in Washington, D.C. Baldwin High receives a $500 stipend for the purchase of poetry books. The national winner will receive a $20,000 scholarship.
"I'm excited because it's a free trip to Washington D.C. and that's pretty sweet," Roger said. "I'm also excited because I know what to expect this year. My experience last year should help me do better."
Last year was the first for BHS to participate in the state competition. Roger won the school, regional and state contests both years. Although two of the six competitors didn't participate at the state contest, Roger said she was more nervous this year.
"It was pretty thrilling to win," she said. "The competition was a little tougher this year. I was really nervous, because I could hear the others warming up and they were good. That made me a little scared, but when I won, it was the happiest day of my life."
At the state contests, the students must recite three poems. The students choose the poems from a list, but they must choose one from each of the three categories, which are pre-20th century, 25 lines or fewer and one of his or her choice.
"You have to memorize them word for word," Roger said. "You have to know them by heart."
Roger, the daughter of John and Shannon Musgrave of Baldwin, is active in theatre and forensics and is the captain of and chorographer for the BHS dance team. She enjoys singing, acting, dancing, reading and writing. After graduation, Roger hopes to attend the University of Texas with a double major in theatre arts and dance. Katherine Cook, English teacher and forensics coach at Baldwin High School, served as Madeline's coach for the Poetry Out Loud Competition.
The Kansas competition was held March 13, at the Brown v. Board of Education National Historic Site in Topeka and was presented by the Kansas Arts Commission and the National Endowment for the Arts, in cooperation with the Kansas Association of Teachers of English.
The Poetry Out Loud program encourages high school students to learn about great poetry through memorization, performance and competition. This year's state runner-up was Suzy Shinn from Wichita East High School. Other regional finalists who competed at the state competition were Marcie Hartwig of Yates Center High School and Gray Henry of Colby High School.