Neighbors: Shelly Buerman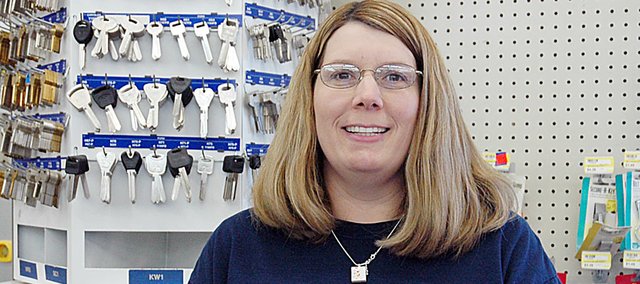 Name: Shelly Buerman
Occupation: Manager of Arrowhead Hardware
Family: Husband Monte and two sons, Ronald and Tyler
Place of birth: Ottawa
Q. How long have you lived in Baldwin City and what brought you here?
A. I moved here in 1990 from Eudora, because I married Monte.
Q. What's the biggest risk you've ever taken?
A. I guess, raising twins. I didn't really have a choice, but it was a risk.
Q. What's the best piece of advice you've ever been given?
A. My aunt Elaine always said, "every day is a good day." She always thought every day was a great day, no matter what.
Q. What two things would you want people to know about you?
A. I have twin boys and I love them. I also love talking to people and most people that know me already know that.
Q. What did you want to be when you grew up?
A. I wanted to be a mom. I'm not sure why, but I knew that was it. Everybody in school voted me the person to most likely be a mom.
Q. What's the best way for you to get away from it all?
A. I go sit in my Jeep during my lunch break to read the newspaper. That's my quiet time.
Q. What's your ideal vacation spot?
A. Hawaii. I'm scared to fly, so when they build a highway there, I'm there.
Favorite things
Song: "You are my Sunshine"
Movie: Rocky
Color: Yellow
Food: Anything chocolate