Easter egg hunt set for Saturday on Baker's campus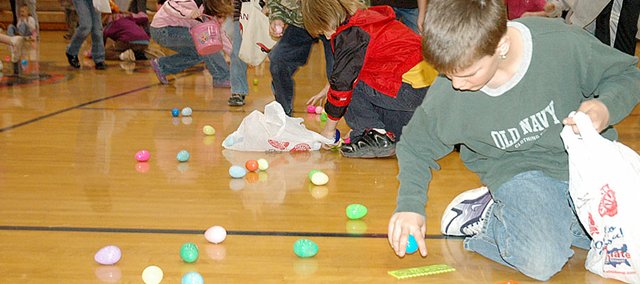 If the weather forecast holds true, Baldwin City children will be celebrating Easter outside Saturday.
For the past two years, the annual Easter Egg Hunt and Silent Basket Auction has been moved inside because of inclement weather. However, event coordinators are hoping for a warm, sunny day on Saturday.
"We're hoping to have it outside this year," said Christy Lund, event organizer. "It's supposed to be sunny and 60 on Saturday. It feels more like an actual egg hunt when it's outside. It just feels more realistic."
If the weather is warm enough, the annual event will be held in the middle of Baker University's campus. However, if the weather is inclement, it will be moved inside the Collins Center, located at the corner of Sixth and Fremont streets.
Either way, the festivities will begin at 10 a.m. and end at noon. Rainbow Experience Preschool and MidAmerica Bank are the two sponsors again.
The first egg hunt begins at 11 a.m. and it will be for children ages 2-years-old and under. The other age groups are 3-4-year-olds, 5-6-year-olds, 7-8-year-olds and 9-and-up. The other groups will start every five minutes after the first group.
"We're hoping the forecast holds true," Lund said. "We also hope lots of families come out and have a wonderful time. We have stuffed more than 3,000 eggs."
Along with the egg hunt and silent auction, there will be the usual assortment of games and activities for the children. Those include free balloons, games, face painting, photographs with the Easter Bunny, an inflatable moonwalk and clowns.
The other attraction Saturday morning will be the silent auction, which begins at 10 a.m. Once again there will be a variety of baskets to bid on for more than an hour.
"The auction is our biggest fundraiser of the year at Rainbow," Lund said.