Cyclones shut down Bulldogs' firepower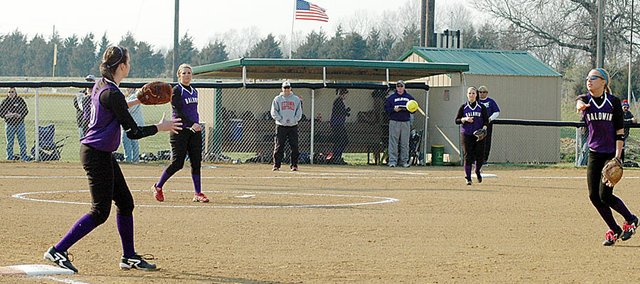 OTTAWA — An opening day rout of Wellsville might have been too easy for the Baldwin High School softball team, as it was swept here Tuesday by the Cyclones.
BHS began the 2009 season with a 10-0 thumping of the Eagles on Friday. However, any confidence from that win was gone Tuesday night when they left Ottawa.
The Bulldogs were swept in their first Frontier League doubleheader of the season. They lost 6-0 and 7-1 to fall to 1-2 on the year.
"That was a nice win," coach Bob Martin said about Friday's contest. "We hit the ball well with 15 hits. We did a lot of good things. Tonight's games were much better for us, because it showed us more of what we need to work on. We weren't tested much on Friday and we talked about that tonight after the loss."
On Friday, BHS senior Alex Zordel pitched a six-inning shutout. She also recorded her first home run of the season and slid into home to score the last run. She said the team was happy to win the game that was postponed three days because of rain.
"It felt nice to win the first game," Zordel said. "It was a big relief. It pumped us all up and got us excited to play this season. We have been practicing indoors most of the time, so it felt good to get out and play."
"It was a nice confidence booster, but I knew the games against Ottawa would be a test for me," she said. "It felt good to pitch a shutout and hit a home run. It was really nice, because it was my seventh home run, which is a school record."
Then the Bulldogs were blown away by the Cyclones on Tuesday. Ottawa scored 10 of its 13 runs during the first two innings of each contest. BHS found itself down 4-0 after two innings in the first game and 6-0 in the following game.
Martin was impressed by the Cyclones as a whole.
"They are a really good team," he said. "They have a lot of good players. They are a good offensive team, but they impressed me defensively. They have really good pitching and they made all of the plays on the field tonight."
Baldwin's only run of the night came in top of the seventh inning. Senior Ariel Sanders reached base on a single and stole second. Senior Tracie Weege ripped a shot through the infield that sent Sanders home. She barely beat the catcher's tag to score the Bulldogs' only run.
"We didn't want to go home without at least a run," Martin said. "It was a struggle for us all day offensively."
Both Martin and Zordel said Ottawa's pitchers were tough to hit all night, but they did agree BHS hit better in the second game.
"In the first game, we couldn't get anything going on offense," Martin said. "That pitcher was awfully good in the first game. We had some chances in the first couple innings of the second game. I think if we could have scored some in those first couple of innings, it might have been a different story. Our inability to do that kind of cost us."
The three-time all-state player agreed with her coach.
"They had a really good pitcher," Zordel said. "In the second game, we started hitting a little bit better. The games just didn't go the way we wanted them to go."
Despite the lack of offense, Martin was pleased with his team's defense for most of the night.
"Defensively, we fought out of a lot of jams," he said. "There are a lot of little things we need to work on still. I think they battled pretty hard all night and they didn't give up. That will pay off for us in the long run."
Baldwin will next play at 4:30 p.m. Tuesday at home against Spring Hill.