Voting is over; some polling places reach 20 percent turnout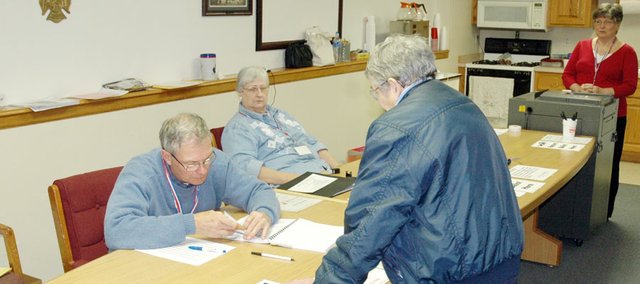 A steady stream of voters showed up to the polls for Tuesday's election in Baldwin City and Douglas County Clerk Jamie Shew's initial prediction of 20 percent turnout occurred in at least one polling place.
"We are keeping an eye on the polls down there," said Shew. "I think that you will have the high turnout for the county."
Last week Shew had predicted a 20 percent turnout here, which was still expected to lead the county. He bases the new prediction on turnout for Saturday's advance voting where Baldwin City had the highest total at 80. Lawrence was second at 65, Eudora third at 47 and eight voters showed up in Lecompton.
As of 7 p.m., 241 voters had gone to the polls the Baldwin City Fire Station and 250 at the American Legion Hall. The fire station was around 19 percent turnout and the Legion did make 20 percent with its advance votes counted in.
"Yeah, we made it — plus," said Will Ford, a longtime poll worker at the Legion.
At Baldwin Elementary School Primary Center there had been 200 voters as of 6 p.m.
"It's been steady," said Becky McMillen, a longtime poll worker at the fire station.
Voters in town chose between mayoral candidates Gary Walbridge, Ken Wagner and George McCrary and chose two city council members from the field of Tom Farmer, Ric Gere, Russ Gill, Chris Nichols and Bonnie Plumberg. The three incumbents for Baldwin School Board — Ruth Barkley, Bill Busby and Ande Parks — are running unopposed, but voters can write in additional choices.
The Signal will update this story online with results as soon as they become available.