BHS

girls win

BIT

track meet, boys finish third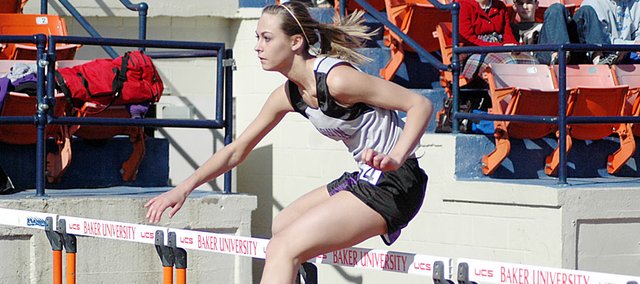 The first meet of the season was a successful one for both Baldwin High School track teams.
Both Bulldog teams placed in the top three out of the top 14 teams. The BHS girls cruised to its team victory by scoring 152 points, while the BHS boys' squad finished in third place with 100.5 points.
Baldwin High won eight events and placed in the top three in 15 events. All six BHS relay teams finished in the top four.
The BHS girls won the 100-meter hurdles, 300-meter hurdles, 2,000-meter steeplechase, 400-meter relay and the 1,600-meter relay. The BHS boys won the 800-meter run, pole vault and 3,200-meter relay.
On the girls' side, the winners were sophomore Lyndsey Lober (100 hurdles), sophomore Ramie Burkhart (300 hurdles), and senior Corinna Papps (2,000 steeplechase). Seniors Connor Wright won the 800 and Logan Schiller won the pole vault.
There will be a full story and pictures in Thursday's Signal and online Thursday.