Tuesday election draws interest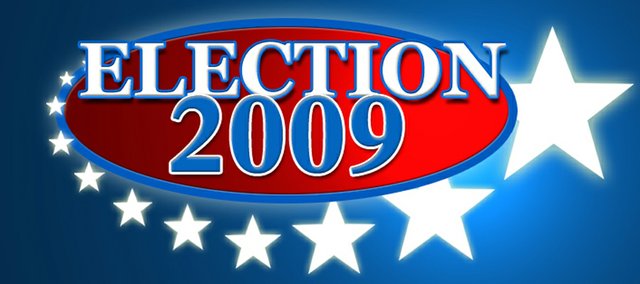 Tuesday's elections for Baldwin City Council and mayor have caught the eye of Douglas County Clerk Jamie Shew. He's predicting a higher than normal turnout.
"Baldwin City seems to have a lot of interest for the Baldwin City races," Shew said Monday, while here to train poll workers for Saturday's advance voting at the library. "That's where we're getting our questions and phone calls.
"We're not getting that anywhere else in the county, not even Lawrence," said Shew. "By now I can get a good handle on the interest based on the phone calls and questions and we're getting that here."
He also thinks that's the way it should be. Local races have more impact than national and state races for those in a community.
"A person who serves on the city council or school board affects you more than (President) Barack Obama," he said.
Shew's office will offer advance voting from 9 a.m. to 1 p.m. at the Baldwin City Public Library. That was first offered for the November election and the response was so good that he hopes it will become standard.
"I think so," said Shew. "We worked hard to change the law (to allow satellite voting stations). It was extremely successful in the fall and I think it's something we'll do for every election. Anytime we can add a time to vote, it's good.
"Anyone can vote here," he said. "Every ballot in the county will be available."
Satellite stations will also be available in Lawrence, Eudora and Lecompton. Anyone in the county can also cast their ballots at those locations.
As for the interest in Baldwin City's races, Shew said they'll be ready.
"It will be interesting," he said. "I printed a little higher number of ballots for here. I think turnout will be higher down here compared to the rest of the county."
Most of the interest has been in the race for mayor, where incumbent Gary Walbridge faces a challenge from current Council Member Ken Wagner and George McCrary, who served on the council for two years.
Voters will also be choosing two new members to the city council, where incumbents Amy Cleavinger and Doyle Jardon chose not to run for re-election. Those candidates are Tom Farmer, Ric Gere, Russ Gill, Chris Nichols and Bonnie Plumberg. They are all newcomers to politics.
Candidate profiles on all eight candidates are available online at www.baldwincity.com.
Although there's not much of a race for Baldwin School Board, voters will find three people on the ballot. Incumbent Board Members Ruth Barkley, Bill Busby and Ande Parks are running unopposed. Everyone in the district can vote for those three.
"In the general election, you can vote for everyone, not just your member district," said Shew, adding that's not the case in a primary election where voters can only choose candidates from their district. "All three people are on the ballot for everyone."
Because of that, all polling places in the Baldwin City area will be open from 7 a.m. to 7 p.m. Tuesday. Those are the Baldwin City Fire Station, Baldwin Elementary School Primary Center, American Legion Hall, Vinland United Methodist Church, Marion Springs and Willow Springs.