Neighbors: Kit Harris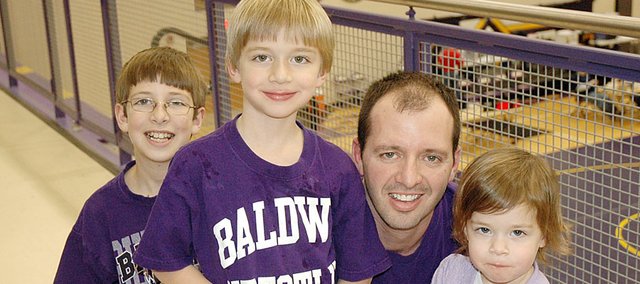 Name: Christopher "Kit" Harris
Occupation: Administrator, teacher, coach at Baldwin High School
Family: wife Sarah, kids Cael (9), Ty (6), Malin (almost 3)
Place of birth: Lebanon, Mo.
Q. How long have you lived in Baldwin City and what brought you here?
A. Since 1983; my parents were hired at Baker University and we moved here. I was in sixth grade.
Q. What's the biggest risk you've ever taken?
A. Probably leaving home to live in Australia for a year while I was in high school.
Q. What's the best piece of advice you've ever been given?
A. I am not sure, probably something from my mom or dad. My dad has always influenced me to work hard and have fun, and my mom has given me a lot of good situational advice and ethical guidance. And Sarah said her grandmother told her when she was married to never end the day angry. Sarah is the best at helping me see that things will be OK.
Q. What two things would you want people to know about you?
A. That any good qualities about me are most likely the influence of Sarah or my parents. And I don't know what to say for thing number two.
Q. What did you want to be when you grew up?
A. I am not sure I had a real clear goal, but I think I have always wanted to work in education in one way or another. I like working in the school system and it is a very important job. I think I have probably always felt this way.
Q. What's the best way for you to get away from it all?
A. To go running or do something fun with Sarah, Cael, Ty or Malin.
Q. What's your ideal vacation spot?
A. Hawaii. That is where Sarah and I were married.
Favorite things
Song: Simple Man or Lunatic Fringe
Movie: The Man From Snowy River
Color: Bulldog Purple
Food: Steak/Potatoes or cantaloupe