Home meet to kick off
BHS

track season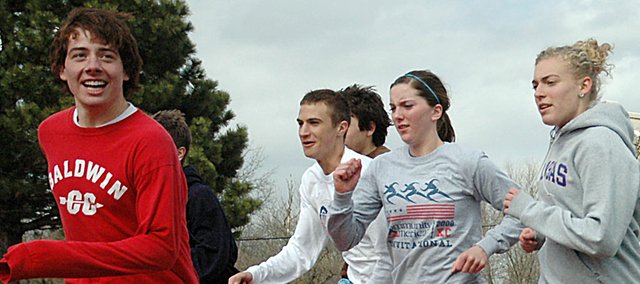 Expectations are about to become a reality for the Baldwin High School track teams.
Both Bulldogs' squads will once again be starting their seasons at home. On Friday, BHS will host the annual Baldwin Invitational. It will begin at 3:30 p.m. at Baker University's Liston Stadium.
"Starting the season out at home is great," senior Olivia Catloth said. "I am really looking forward to it and having the home crowd. It will motivate everyone to do better and start the season off right."
Catloth isn't alone, nor is she the only one ready to start the Bulldogs' season.
"I'm very excited about Friday," senior Connor Wright said. "I was hurt last year and I've been waiting for this for a long time."
As anticipation for Friday builds, so do the expectations for both teams. The boys' squad returns four state qualifiers from a year ago, while the girls' squad brings six back.
Newcomers and freshmen are expected to help both teams, according to coaches Mike Spielman and Ted Zuzzio. The Bulldogs are also aware of the possibilities this spring.
"There are high expectations for all teams," sophomore Lyndsey Lober said. "The guys are pretty stacked this year and the girls aren't too far behind. There are a lot of upcoming freshmen stepping up to the plate, along with returning upper classmen leading the way."
Returning boys who are expected to be leaders are Wright, sophomore Tony Weiss, senior Ryan Kennedy, senior Logan Schiller and sophomore Carson Barnes. Two newcomers who could impact the team are senior Andy Thurlow and sophomore Josh Hoffman.
Several freshmen boys made a name for themselves in junior high. They include Brian Wright, Tosh Mihesuah, Will Simmons, Shawn Berndt and Britton Shroeder.
"We have a lot of underclassmen that are pretty speedy out there," Wright said. "We'll have a chance to break some records this year."
Spielman will have several options for relays this spring. BHS will look to defend its Class 4A state title in the 1,600-meter relay and compete for the 3,200-meter relay at the state meet. The chance to run with his younger brother has Wright excited.
"We have some newcomers on the relays," Wright said. "We'll see how these first few meets go, but by the end of the year, I think we'll be rolling. We should be running some pretty fast times.
"I've never really run with him on the track," he said of his brother. "I'm happy to have him out here, because he's pretty fast. I'm just going to try and stay healthy these first few meets. I'm just going to try my hardest and get in shape. I'll use the first races to judge how in shape I am at this time."
The BHS girls will be looking to returners to lead the team this spring. Those include senior Calleigh Durr, senior Corinna Papps, junior Connor Twombly, junior JaBryanna Wellington, sophomore Ramie Burkhart, Lober and Catloth.
"We're excited, because we have a lot of people back and some new people at different events," Durr said. "We should be more well-rounded this year. We are just aiming to qualify for state in May."
Durr, along with Papps and Twombly, is part of the defending 3,200 relay state title team. Missing from the team is multi-state champion Heather Garcia, who graduated last May. Freshman Elizabeth Sigvaldson, who medaled at the 4A cross country meet, might fill the void.
"I guess we are the reigning champs," Durr said. "We would like to repeat and go out as champs, since Corinna and I are seniors. We have a couple of underclassmen, who will hopefully fill Heather's spot. It's tough to fill that spot, but we hope they can do it."
Burkhart and Lober are returning state qualifiers in the hurdle races. Both broke onto the scene as freshmen and hope to make more noise as more experienced sophomores.
"I have set very prestigious goals for myself and the team, so I expect to do very well this season," Lober said. "Ramie has always been a very good teammate. She and I have our own competitions and keep each other pushing to do more. We expect to return back to state in both the 300 and 100 hurdles."
Catloth also joins the sophomore in the hurdle races. Despite battling injuries for most of last year, she did high jump 5-foot-2 at the regional meet. She barely missed qualifying for state, but has her mind focused on Wichita this season.
"I am looking to do well with high jump this season," she said. "We haven't had much time to practice, but with the time that we have had, I feel that this year I will be able to go to state. Coach (Richard) Ebel really knows what he is talking about and he will help out a lot."
On Friday, the field events begin at 3:30 p.m. The steeplechase will start at 4 p.m., with the preliminaries at 4:30 p.m. and the finals at 6 p.m.