Community, Boy Scouts fill food pantry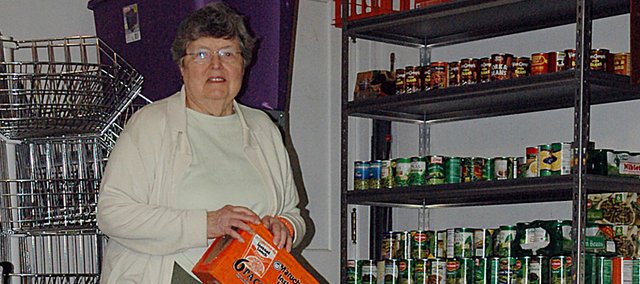 Freezing rain and a light snowfall Saturday morning didn't stop Boy Scout Troop 65 from picking up contributions from the community.
On Saturday afternoon, boxes and boxes of food items filled the Community Food Pantry. The annual Scouting for Food Drive was deemed a success, since it brought in more donations than last year and more people are using the food pantry than ever before.
"I was wowed," said Ruth Dickinson, a volunteer at the food pantry. "I'm curious to see what kind of variety we have. I do know we have cereals, paper products and lots of canned foods."
Troop 65 Scoutmaster John Richards said the Scouts collected more than 2,000 pounds of food items. Most years, they bring in around 700-800 pounds, he said.
The group of 23 Scouts and 15 adults scoured the town, picking up hundreds of bags of food.
"We had a great turnout," Richards said. "We had great numbers Saturday. It took less time to pick up the bags with food than it did to distribute them."
Troop 65 distributed 1,500 bags around Baldwin City on March 21. Many of those bags were filled with canned food and household items before being picked up on doorsteps Saturday morning.
A winter storm made the morning difficult for the Scouts, but they were happy to help the community.
"We didn't mind the rain, because we're Scouts," Richards said. "We camp in the rain and snow. It was sprinkling when we got started, but by 10 it was raining pretty good. It wasn't icy, but if it had been, we would have delayed it for safety reasons."
"Bless their hearts for being out in the rain and muck," Dickinson said.
On Tuesday, Richards said he was still receiving phone calls from people who forgot to put their bags out Saturday morning. He said if anyone was missed or forgot, they can take their bags to the Community Food Pantry in the First United Methodist Church or the Baldwin City Market.
The Community Food Pantry is always accepting donations and those don't always have to be in the form of human food.
"I'm amazed at the amount of people who are coming," Dickinson said. "I'm really amazed. We are dispensing the food so quickly. Most people don't even think about it, because they have food in their pantry. One lady said, as she walked out, she has money to buy her meds now.
"We even had someone bring in some dog food and cat food, because they read somewhere that people were having to give up their pets because they couldn't afford to feed them," she said. "They brought in a couple bags of each. It wouldn't have been something I would have thought of, but it was really thoughtful."
The food pantry is open from 9-11 a.m. every Tuesday, Friday and Saturday in the basement of the First United Methodist Church, located at Eighth and Grove streets. There is also a shopping cart in the front of Baldwin City Market that collects items for the food pantry.