Bulldogs beat De Soto 14-0 on homecoming night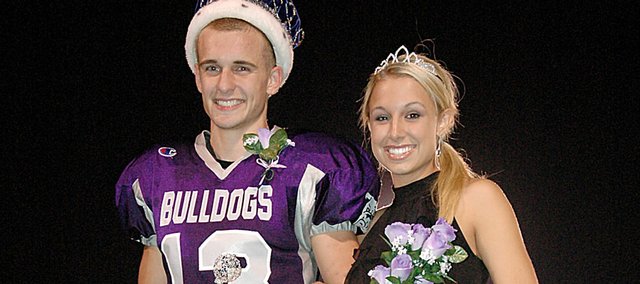 Offensive highlights were few and far between here Friday night during the Frontier League matchup that faced Baldwin and De Soto against each other.
However, Baldwin's Sam Beecher once again led the Bulldogs (3-1) to victory with a pair of touchdowns as they beat the Wildcats (0-4) 14-0.
"It was a really hard fought game," Beecher said. "Any time we hit the hole, he had to hit it hard, because they were blitzing a lot of linebackers. They were 0-3, but they played like they were a 3-0 team tonight, so we had to bring it."
Beecher broke a 0-0 halftime tie with a 90-yard kickoff return to open the second half. His return opened up a game that Baldwin controlled but never led.
"It was huge," Beecher said of his touchdown return. "It helped our confidence, because it was 0-0 and we had chances to score in the first half. That was a really big play."
With the 6-0 lead, Baldwin continued to drive the ball on its next two possessions. Like in the first half, the Bulldogs' drives stalled inside the Wildcats' 20 yard line.
Baldwin did convert its next possession as it took over after a Wildcat fake punt attempt. Baldwin drove 40 yards in five plays as Beecher rushed the ball twice for 39 yards. He finished the drive off with a one-yard score.
"Our kids will be able to remember this for a long time," Baldwin coach Mike Berg said. "A homecoming victory is very nice, especially when you get the goose egg on the board defensively."
The Wildcats' offense struggled getting started Friday as it punted the ball five times and turned it over four times, two of which were fumbles.
Next week Baldwin will be looking for its third consecutive win as it travels to Ottawa. De Soto will be looking for its first win of the season at Paola.
Scoring summary
D - 0 0 0 0 - 0
B - 0 0 6 8 14
B - Sam Beecher 90 kickoff return (Logan Schiller kick wide right)
B - Beecher 1 run (Beecher run conversion good)