Standoff ends peacefully Tuesday morning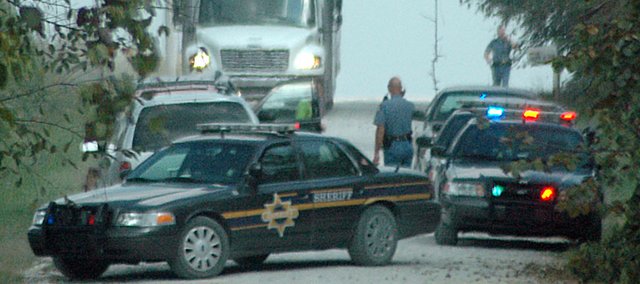 A standoff south of Baldwin City that began Monday around 1 p.m. was resolved without incident Tuesday at 5:40 a.m. when a woman came out of the home on her own.
"It's been resolved without any injuries," said Lt. Kari Wempe, spokeswoman for the Douglas County Sheriff's office.
Sheriff's officers responded to the 1800 block of North 100 Rd. Monday after receiving a call.
"We got a call yesterday that a person may harm themselves," said Wempe. "Officers went to the residence. The party wouldn't cooperate with our orders."
Sheriff's officers were joined by Kansas Highway Patrol troopers and other law enforcement officers to create a perimeter around the home and a command center was established. They waited until the woman, who is in her early 50s, came out on her own.
"So, happily at about 5:40 a.m., the person that we had concerns about came out and was taken into custody and will get the help they need," she said.
Wempe said that the officers kept their distance for all that time to hopefully let the situation resolve itself.
"Safety and security is our thing," she said. "We stayed there until she came out on her own and no one was hurt. That's the best case scenerio."