Maple Leaf banners are up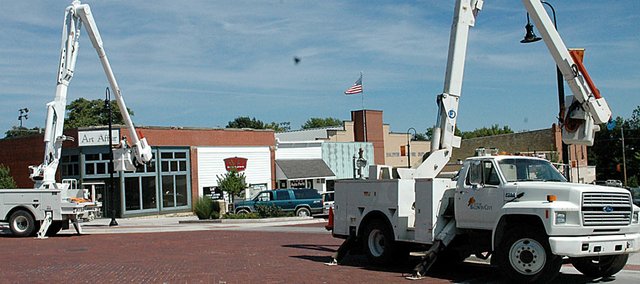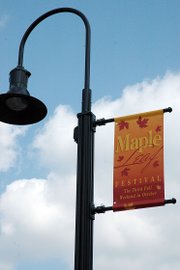 There's going to be a different look to downtown Baldwin City for the 51st version of the Maple Leaf Festival this year.
Of course, the most obvious is the $1.8 million Downtown Streetscape Project that was completed in the spring. It has reshaped the area in many ways, including handicap accessibility, but mostly it's noted for its beautification of the historic downtown.
But the change has brought an end to one banner era and the start to another. The long-time fixture banner that has been draped across High Street at Eighth Street won't be hung there. In its place will be 42 banners on the new light poles.
"There are 42 banners - 21 simply welcoming visitors to Baldwin City and 21 to promote the Maple Leaf Festival," said Annie France, vice chair of the Maple Leaf committee. "We did this because we couldn't hang our banner downtown on the new lights and the new lights needed banners.
"This is another example of the Maple Leaf committee investing in the community to help beautify Baldwin City," said France. "The committee also purchased a sound system that is wired to the downtown lamp posts for use by the city for events and holidays. Donna Curran, current chair of the committee, has made it her goal to enhance the downtown and we all support her 100 percent."
The banners were hung last week on many of the light poles downtown. There will be other banners during the year, as well.
"They were designed through a contest awarded on July 4 to John Masson and Sandy Cardens - they worked together to complete the final design," she said. "I believe John is also designing the other seasons, which the Baldwin Convention and Visitors Bureau and city offices are working together to purchase.
"The banners are made from heavy-duty vinyl that should last for years," said France. "The city will put up and take down the banners on a quarterly basis to promote the different seasons and events in town. Other organizations are encouraged to purchase partial-lot banners so they can promoter their events and organizations, too."
She said anyone interested in that should contact City Administrator Jeff Dingman. She also said that the old standby banner may still be put to use.
"We're hoping to find another location for the big banner to be used - maybe by the highway," said France.