District's enrollment jumps 47 students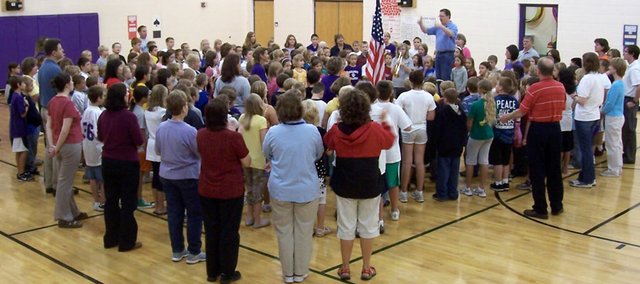 Baldwin School District Supt. Paul Dorathy is happy to see an enrollment increase during his third year at the helm.
In fact, he was thrilled that the district's enrollment has increased by 47 more than the year before. At the beginning of the 2007-2008 school year, the Baldwin district's enrollment was 1,410, which was down from 1,415 the previous year.
As of Monday, Baldwin has 1,457 students in its district. The head count from a year ago, was 1,410, according to Dorathy.
"Of course we are always happy to be up from the previous year," Dorathy said. "I think it's a very good thing since we were down a little bit last year. We have more than made up for that this year. We've probably had more students come in this year than we anticipated, which is a good thing.
"As far as looking at a trend for future years, I think we have to take it each year and see what happens," he said. "We are pleased our enrollment is up, because it does help financially. It's a good thing."
The school district's full-time enrollment is at 1,335.46. That is an increase from 1,315.3 a year ago. The FTE is the official number used by districts for their budgets and state funding.
However, the FTE doesn't include the 4-year-old program and is different than the head count. The 4-year-old FTE is 26 this year, also up from 23 last year.
"The difference is that head count counts every single student we have enrolled here and FTE only counts those we can count for funding," Dorathy said. "Kindergartners, which are a very big class for us this year, can only count as half-time FTE students. Even full-time kindergarten students count half-time for funding. The 4-year-olds only count as half-time also, even though we count them in our head count. We do the same thing for PEP students."
Baldwin High School leads the district with the most students in its building. The head count at BHS is 435, which is even with its projected enrollment in early August.
Dorathy and the district projected an FTE of 1,325 in the original budget in August. He said the district may republish the budget in order to receive extra funding if the numbers hold true after its audit.
"We put an estimate for our budget on there at that time," Dorathy said. "This year it looks pretty positive that we are going to be up."
Baldwin Junior High School's head count is 335. The next highest building is Baldwin Elementary School Primary Center at 254. Baldwin Elementary School Intermediate Center has 218 students, Marion Springs Elementary School has 125 and Vinland Elementary School has 90. There were 32 new kindergartners district wide.
BHS has the second lowest head count of the eight Frontier League schools. Eudora has the lowest with 417 students. Gardner-Edgerton leads the league with a head count of 1,139. The other league schools are Ottawa (664), Paola (650), De Soto (610), Spring Hill (577) and Louisburg (497).