Beecher leads assault on Broncos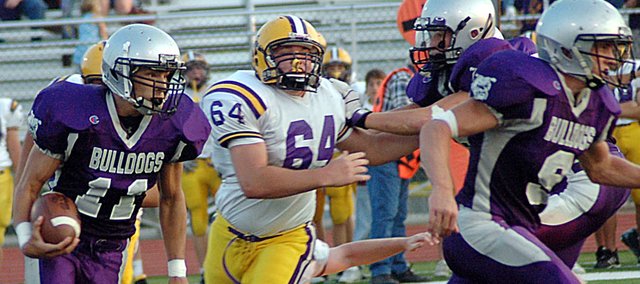 Sam Beecher let a pair of younger teammates finish the first two drives Friday night.
Then he took over.
Beecher, a senior at Baldwin High School, rushed the ball 19 times for 223 yards and accounted for five touchdowns. He also completed six of seven passes for 71 yards as the Bulldogs (2-1) routed Spring Hill (1-2) 57-26.
"It's really good to win in front of the home crowd," Beecher said. "This is only the second Bash game I've played in, but I've never won it until tonight. It's cool to win it for the first time in my memory."
Friday was Baldwin's first home game of the season, which means the Bulldog Bash tailgate party kicked off the night. The Bulldogs' anticipation for the home opener poured on to the field during the first 20 minutes of the contest. Beecher was a big reason for the early success.
Baldwin took the opening kickoff and began the rout with a ground attack the Broncos couldn't stop. Beecher carried the ball four times for 57 yards on the opening possession. Sophomore Landon Ausherman finished the drive with a 1-yard touchdown run.
"Coach (Mike) Berg told us in the locker room before the game that we were going to run inside a few times, run outside a few times, not throw a pass and score a touchdown on that drive," Beecher said. "That's exactly what happened. Coach picked out a few good plays that worked really well against them."
Four plays later, senior Andy Thurlow intercepted a Broncos' pass near midfield. It only took Baldwin six plays to score after the turnover as Beecher rushed for 23 yards and threw for 9 more.
However, a sophomore ended up scoring the touchdown. Josh Hoffman scored on a 5-yard run to give the Bulldogs a quick 14-0 advantage.
"Having the early lead helped a whole lot," Hoffman said. "The whole team played well and we all knew where we were supposed to go. We just executed tonight."
After a Spring Hill punt and a 14-yard return by Thurlow, the Bulldogs were ready to score again. This time Beecher would find the end zone on the first play. He scampered 36 yards through the Broncos' defense for the touchdown.
On the next play, Spring Hill fumbled the ball after Schiller drilled a Broncos' wide receiver. Thurlow recovered the fumble.
"A couple turnovers in the first half gave us the momentum early," Thurlow said. "The ball came over the middle and the receiver went the other way. I was just in the right place."
Then Beecher completed a pair of passes to seniors Brandon Tommer and Logan Schiller. His 11-yard toss to Schiller scored the Bulldogs' fourth consecutive touchdown and gave them a 26-0 lead to wrap up the first quarter.
"It was so much fun to come out in the first quarter and pound them," Beecher said. "We executed just like coach Berg had us doing everyday in practice."
Once the second quarter hit, the Bulldogs' offensive attack didn't slow down. They marched 55 yards in six plays and scored on a 10-yard run by Beecher to begin the quarter.
After an interception by Schiller, Ausherman carried the ball twice for 21 yards, but it was Beecher who scored. He ran in from 14 yards out as Baldwin scored on its first six offensive possessions of the contest.
"We really came out slow against Gardner and we ended up matching them in the second half," Beecher said. "That didn't really help our confidence, but jumping out on Spring Hill in the first quarter did help our confidence. We knew after that we could do just about whatever we wanted."
Baldwin suffered its first loss of the season on Sept. 15, only a few days before the game against Spring Hill. The contest at Gardner-Edgerton was postponed until Sept. 15, because of the weather on the night of Sept. 12.
Berg wasn't sure how his team would react to the loss and short week, but he was pleasantly surprised early Friday night.
"For only having three days to prepare for a team, I'm very proud of how our team executed tonight," Berg said. "Mentally, it was a very draining game Monday night and we could have done two things. We could have not shown up tonight or we could have shown up with a lot of intensity. We showed up and the kids were intense. They executed and played for each other. That's what I like to see."
Baldwin scored a trio of touchdowns in the second half to complete the rout of the Broncos. Beecher scored his final touchdown early in the third quarter on a 1-yard plunge.
Hoffman added his second touchdown of the night on the Bulldogs' next possession with a 2-yard run to give BHS a 51-12 lead.
"We really stepped it up in practice this week and focused on our game plan," Hoffman said. "We didn't even go full pads any day of the week."
The Bulldogs' final touchdown of the night came late in the fourth quarter. Sophomore Donny Masters' only carry of the night was a 59-yard run right through the Broncos' defense.
"He is a new kid on the team and we didn't have an eligible number for him," Berg said of Masters. "We gave him a lineman's number, but he is a running back."
Masters was one of a few junior varsity players to get some varsity action. Berg was happy to play some of the younger players that night.
"Our younger guys got a lot of playing time tonight," Berg said. "A lot of them were wide-eyed and weren't really sure what to expect. I'm really proud of them, too, because they hung in there and played hard. We had a mix of players in there and they all played well."
Baldwin will host De Soto at 7 p.m. Friday at Liston Stadium. After the win against Spring Hill, Beecher said he would enjoy the full week of rest and practice before the match up with the Wildcats.
"During halftime, I was really trying to hydrate and eat bananas, because my legs were really tired," Beecher said. "It's going to feel really good to have a week of rest instead of three days."