Baker University has record enrollment with 4,000 students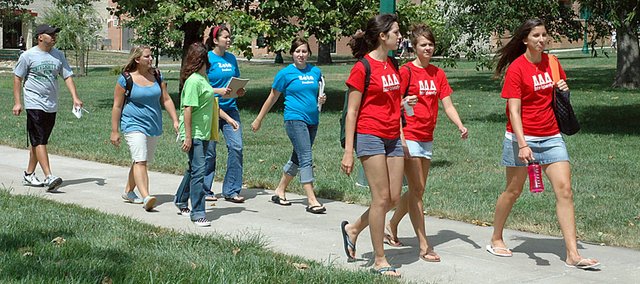 Baker University's overall enrollment has surpassed 4,000 for the first time in the school's 150-year history.
According to 20th day figures released today, Baker is reporting a record-high enrollment of 4,112 students with increased numbers at all four of its schools - College of Arts and Sciences, School of Professional and Graduate Studies, School of Nursing and School of Education.
"Reaching an enrollment of 4,000 students for the first time in our history is a significant milestone for Baker University," Baker President Pat Long said. "Our excellent academic programs continue to attract quality students pursuing degrees ranging from associate to doctoral."
The Baldwin City campus, which serves College of Arts and Science students and School of Education undergraduates, reported an enrollment of 998 students, the highest figure for that location in at least 30 years. The enrollment figure includes non-degree seeking students. The on-campus population totals 947 students.
The School of Professional and Graduate Studies, which serves working adults at locations in Kansas and Missouri, recorded an enrollment of 1,885 students. That figure consisted of 992 undergraduates and 893 graduate students.
Operating at maximum capacity, the School of Nursing at Stormont-Vail HealthCare in Topeka has 159 students enrolled.
Baker's School of Education graduate programs currently have 1,070 students.
In 2007, Baker's official enrollment was 3,959.
Baker has campuses in Baldwin City, Overland Park, Topeka, Wichita, North Kansas City, Mo., and Lee's Summit, Mo.