Bulldogs rout Broncos to win home opener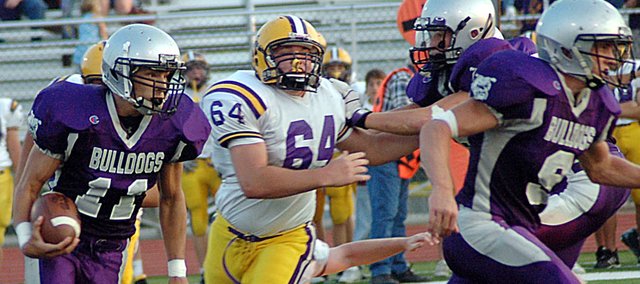 Three days of rest was all the Baldwin High Bulldogs needed to rout Spring Hill in their home opener Friday night, 57-26.
Baldwin jumped on the Broncos early and often with 39 points in the first half. Senior Sam Beecher rushed for a trio of touchdowns and threw for another in the first half. Five Bulldogs scored touchdowns Friday as Baldwin played its first game in Liston Stadium this season.
"For only having three days to prepare for a team, I'm very proud of our team executed tonight," Baldwin coach Mike Berg said. "Mentally, it was a very draining game Monday night. We showed up tonight and played for each other."
Baldwin (2-1) suffered its first loss Monday night to Gardner-Edgerton, but will host De Soto next week for its homecoming game.
Check next Thursday's Signal for a full story and photos from the game.
Scoring Summary
SH - 0 12 0 14 - 26
B - 26 13 12 6 57
B - Landon Ausherman 1 run (Logan Schiller kick)
B - Josh Hoffman 5 run (Schiller kick)
B - Sam Beecher 36 run (kick wide right)
B - Schiller 11 reception from Beecher (kick blocked)
B - Beecher 10 run (kick blocked)
B - Beecher 14 run (Schiller kick)
SH - Colton Ghumm 24 run (Mike Collett kick good)
SH - Derrick Koehn 41 reception from Jordan Miller (kick wide left)
B - Beecher 1 run (Andy Thurlow run attempt failed)
B - Hoffman 2 run (kick wide right)
SH - Lennie Martin 39 run (Collett kick good)
B - Donny Masters 59 run (Masters run attempt failed)
SH - Martin 12 run (Collett kick good)