Starting, ending volleyball victories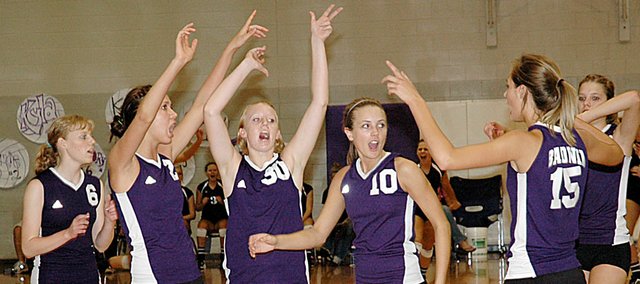 No more waiting for that first victory of the season. No more pressure of trying to earn that win.
Those burdens are no longer being carried by the Baldwin High School varsity volleyball players. At least not after Saturday's home tournament.
In fact, the Bulldogs (2-8) began and ended the Baldwin Invitational Tournament with victories.
"It helped to start off with a win, because it gave us some confidence heading into the rest of the games," junior Katie Brecheisen said. "We played some pretty good teams and we didn't get down on ourselves later in the day."
Baldwin opened up with Osawatomie to begin pool play at 8 a.m. Saturday. BHS lost the first game 25-21, but rallied to win the next two, 25-21 and 25-14.
"It was very important to start the day off with a win," coach Kelly Brown said. "The girls have been working very hard to get over the hump and they did a nice job of playing early in the morning."
Although it was the Bulldogs' first win of the season, Brecheisen said the team wasn't happy with its performance.
"That was nice," Brecheisen said of the win. "We started slow in that match, but by the third game we kind of woke up and played better. It felt like there was a big weight lifted off our shoulders. We were really happy about it, but we weren't happy about how we played in that match."
Baldwin's other victory on Saturday came in the seventh-place match against Perry-Lecompton. It was a rematch from an earlier match during pool play that the Kaws won.
In the rematch, Baldwin once again trailed early as it lost the first game 25-19. However, the Bulldogs rallied to win the next two and the match, 25-21 and 25-18.
"It was our last match of the day, so it was nice to finish with a win," Brecheisen said. "We played a lot better the second time around. We were more relaxed, too. All of us were tired, but we served a lot better in the rematch."
Baldwin lost the first match against the Kaws in straight games, 25-14 and 25-16.
"We definitely played better in the rematch," Brown said. "The girls didn't come out as aggressive as I would have liked in the first game, therefore it took three games to win. In the second two games they came alive. Katie Brecheisen had a high of 13 kills for the match and that's the most a player's had since I've been at Baldwin."
The Bulldogs also played Mill Valley and Topeka-Hayden in pool play. Both matches ended in straight games. Mill Valley beat Baldwin 25-18, 25-22 and Hayden was victorious 25-13, 25-10. Hayden went on to win the tournament as the Jaguars placed third out of 10 teams.
"Mill Valley and Hayden are both tough opponents," Brown said. "We played great against both teams. Those were two of our better games as a team."
On Sept. 10, the Bulldogs hosted Tonganoxie for their senior night. Baldwin won the first game 25-21, but ended up losing the next three (25-23, 25-19 and 25-18) to lose the match.
Baldwin trailed 12-3 in the second game before tying it 14-14. Both teams battled back and forth to win the game, but the Chieftains came out on top.
"That was a painful night, because we came out so strong against Tonganoxie," Brown said. "By the end of the night, the girls were tired but still wanted to win. They were playing hard and you could see that. We didn't block well against their two players that could hit very well."
Although the Bulldogs have only won two matches this season, Brecheisen said the players are seeing improvement and remaining positive about the season.
"We're staying optimistic about the season, because we know we have a lot of good players," Brecheisen said. "If we can put it all together and play more consistent, we will get some more wins."
Brown said the team has improved from a year ago, but plays too inconsistently to win some of its close matches.
"These girls are good players, but we are just too inconsistent," Brown said. "There are moments during games where we have a few brain lapses. "It's just a matter of communication on the court and picking up balls on defense that we should be picking up. The other thing that hurt us Saturday was serving errors."
Baldwin will host matches against De Soto tonight. The freshman and junior varsity teams will also play. The action begins at 5 p.m.
"De Soto has been going through the same growing pains that we have in rebuilding their program," Brown said. "We beat De Soto last year in league, so this should be a big match for both teams. If we start the night playing like we ended Saturday, we will be in a good spot."