Community welcome for
BHS

homecoming parade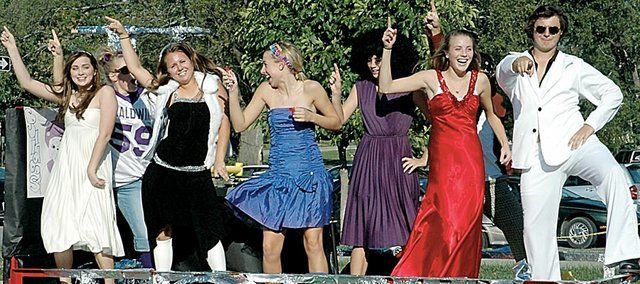 Baldwin High School officials are once again pursuing more community involvement for the annual homecoming parade.
It's been a goal of BHS Principal Shaun Moseman's since he arrived in Baldwin in 2006. He helped bring back the annual parade to celebrate the Bulldogs' homecoming.
"When Mr. Moseman proposed bringing back the parade, he was hoping to build on the community involvement each year," said Joyce Tallman, BHS student council advisor. "We want to make it a community-wide event."
This year's parade will start at 4:30 p.m. on Sept. 26, just hours before the BHS football game at Liston Stadium. A pep rally will follow the parade once it arrives at the stadium.
Each year, the BHS student council organizes the homecoming week activities, which begin Monday. The group also organizes the parade and student council president Ashlyn Cole is hoping that this year's parade will be the largest yet.
"We'd like everyone to come out and get involved," Cole said. "It's really fun. We spend a lot of time working on the floats, so it's nice to see everyone come out and enjoy them, too."
Tallman said the parade is open for anyone to enter a float, but they are hoping community groups or businesses will participate. Other groups they are trying to get involved are the five other schools in the Baldwin district.
"I'm hoping that by getting the word out to the community that it will get more people involved," Tallman said. "I've notified all of the buildings in the district that they are welcome to join the parade.
"I'm opening it up to anyone who wants to be involved," she said. "Some of those could include businesses, local groups or clubs, schools or anybody who wants to join. The football parents had a float the first year we did it. Any group that wants to support homecoming is welcome to join."
This year's parade theme is "Places Around the World." The seniors are the United States, juniors are China, sophomores are France and freshmen are Mexico. The staff at the high school has chosen Australia. Anyone else who enters is welcome to join the theme or just wear purple and support the Bulldogs.
The parade will begin at the Baldwin Elementary School Primary Center, at the corner of Sixth and Chapel streets. It will head south on Sixth to High Street. Then it will turn east and travel down High to Second Street, then head north one block and enter the stadium on the west side.
If anyone is interested in joining the parade, they can contact Tallman at BHS by calling (785) 594-2725 or by e-mail at jtallman@usd348.com.
"Since we no longer go downtown for the pep rally, we are hoping that it will build by getting businesses or groups involved in the parade," Tallman said. "Plus this way businesses can still be a part of our homecoming."