School board OKs planning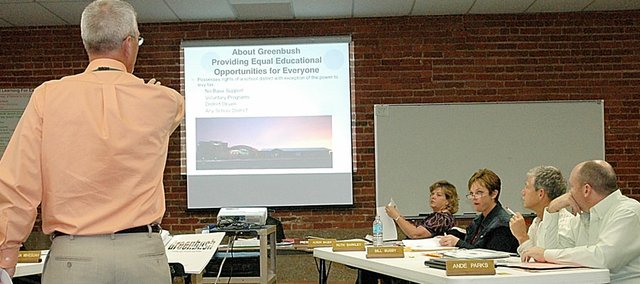 It looks as if the Baldwin School Board is trying to be proactive in its approach to improving the local school district.
After months of brief discussion about strategic planning, the school board sat through a presentation by Greenbush, a consulting firm, at Monday's meeting. Shortly following the 10-minute presentation, Board President Alison Bauer spoke about how she was ready to approve the contract.
"Mike (Bodensteiner, Greenbush presenter), I really liked the presentation and the information you brought us," Bauer said. "I'd like to get this process going, but where does the rest of the board feel about this?"
Board Member Bill Busby said he was ready to start the process. Then the school board approved the Greenbush contract for $6,500 with a unanimous vote.
"The board wants to make sure that we have a comprehensive plan for the next few years, so that the decisions we make are all based on where we want the district to go," Dorathy said. "The idea is rather than go in any direction, we'd rather control the flow of where this district goes. It's a lot more proactive to have a strategic plan in place."
During his presentation, Bodensteiner said Greenbush will help the district create a large data profile, plan long-range and form focus groups to help the district. Some focus group examples would be students, classified staff, certified staff, business/community leaders, senior citizens and administrators.
Before the board voted to approve the contract, Board Member Josh Mihesuah asked Bodensteiner how long Greenbush continues to help a district plan for. Bodensteiner said three to five years. Mihesuah also asked Dorathy if he was comfortable with using Greenbush.
"Greenbush has always been a solid educational consortium," Dorathy said. "They've got lots of good people, so I think they'll do a good job for us."
There were only a couple of other items from the short meeting. The board approved the contract for Rainbow Experience Preschool, which resides in the lower level of the District Office building.
The contract price stayed the same as last year, which is $450 per month. The board briefly discussed changing that price, which it would have to do before Feb. 15.
Two other notes from the meeting came early Monday. The board unanimously approved a pair of bids. The first was a locker bid for $47,343 and the second was a security bid for $39,998. Both are being paid for out of the Capital Outlay fund.
The locker bid purchases 116 lockers for Baldwin High School and 146 for Baldwin Junior High School. The security bid will expand the security at BHS and add a system at BJHS. There will also be cameras added to the outside of both buildings.
The next school board meeting will begin at 6:30 p.m. Oct. 13.